Joined

Aug 8, 2006
Messages

3,884
Location
Dear Friend

The Welsh Canoeing Association (WCA) are currently lobbying the Welsh Assembly to introduce a Land Reform Bill for Wales which would give the right of responsible access to the open countryside and inland waters of Wales. The power to introduce such legislation was transferred from Westminster to Cardiff last July, and we are currently in a position where Assembly members are seriously looking at the WCA proposals. If passed the pressure would greatly increase on Westminster to follow suit for England.

Although the law regarding access to the countryside in England and Wales was recently clarified through the Countryside and Rights of Way Act (2000), this, however, did not include inland waters. As such water sport enthusiasts often face uncertainty as to their legal rights when utilising non-tidal waters. There is no guarantee that a canoeist, for example, will not be committing an act of trespass by simply traveling down a river where they have not obtained permission from all those who own land along the stretch being paddled. Introducing a Land Reform Bill would remove such uncertainties and allow all to enjoy their natural heritage rather than making it the preserve of a privileged few

If you support idea of a Land Reform Bill for Wales, please sign the online petition at

http://petitionthem.com/default.asp?sect=detail&pet=2856

. The Government of Wales Act (2006) requires the Assembly to act on petitions received if an issue falls within their powers so, if we get enough people to sign, this petition can make a difference .The Welsh Assembly have confirmed that

signatures from anywhere in the world are appropriate

, so please sign up. It only takes a matter of seconds. Similar lobbying helped in getting the Scottish Parliament to pass the Land Reform Act (2003).

Many thanks for your support. For more information please visit

http://www.canoeingisnotacrime.org.uk

.

Best regards

The Canoeing is Not a Crime team
Its really an issue for all inland water users, but the support of other people is needed to get them to see that people care, and want to have they're opinions heard.
Here in Scotland, i now know i can turn up and use any waterway as long as i do so in a safe and responsible manner, and i would like to think it should be the same in England and Wales.
Cheers
Go on, save the punto and the canoe!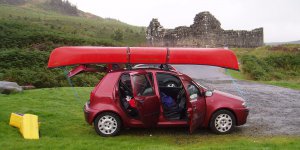 Last edited: