Right then.
Most Cinq's and Sei's I've seen tend to have fairly Grubby Seats.
My method of dealing with this in my first 'Cinq was to attack the seats, wash the material (I'll call them covers from now on but I don't mean aftermarket cover covers, if you understand) and replace them.
On My Cinq and subsequently a Sei SX that I bought to sell on this was a godsend as the seats had been very badly soiled by dogs and stunk to high heaven.
I wish I had done a guide showing those seats as they were filthy! the ones shown in this guide are nowhere near as bad, but I decided to give them a go anyway as some of the foam had split slightly.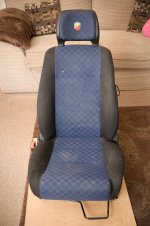 Here I've shown the passenger seat in question.
The basic principles can easily be applied to the rear seats too.
One thing to note is that each seat I've done, (Cinq 's' Sei 'sx' and Sei sporting) has varied slightly in the arrangement of the cords that keep the cover under tension.
However, as long as you work methodically and take good note of where everything goes before you rip it to pieces you'll be fine.
You will need:
1: A #2 Posi Drive screwdriver
2: Large flat Headed screwdriver of Pry-Bar
3: Foam adhesive (probably) - get this from any 'foam cut to size' place
no other adhesive is likely to work.
4: Plyers and Cutters
5: Cable Ties (about 200)
6: Patience!
I tend to do mine indoors with a large board on the floor to protect the carpet from grease.
It takes about 2-3 hours to do a single seat, or a day to do the lot and the seats themselves could easily be damaged in a workshop/garage area.
That's my excuse anyway, find somewhere comfortable to work where you won't be disturbed!