Hi all,
After reading the two previous guides on how to smooth side a punto I thought I would give it a go but soon discovered that I didn't have all the information needed, I have tried to give all this other information to everyone reading this! Enjoy!
Before I start I will give you some detail about the bumper strips. There are 4 altogether (a big one and a little one on each side) and all of them are made of plastic, but each is firmly stuck on with two adhesive strips and nothing more. When they are off they leave no holes or dips etc (see pics). Next, how to take them off!
First of all you will need:
1. A sponge
2. WD40
3. fishing line
4. Boiling Water and Bucket
5. Patience!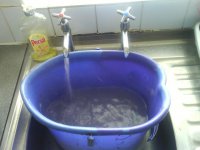 This is what the Punto looks like before we start anything...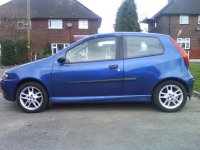 And this is the area we will be working on...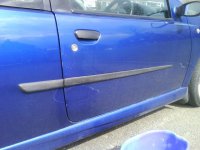 Step 1
With the boiling water and sponge soak one side of the car for a few minutes on the bumper strips (highlighted in red), the idea is to heat the glue of the adhesive so the strips can be pulled off. (An alternative idea is to use a hairdryer to heat the adhesive, but as I haven't used this technique I cannot advise you to do so either).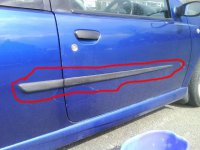 Step 2
use the fishing line in between the door and the plastic bumper strip and pull back an forth. Lever the strip SLOWLY until it starts to part with the door. Get a grip of the strip with your hands and pull at it SLOWLY. I cannot advise how much better it is to do this slowly, if you rush this part the adhesive will be stuck to door and it will take forever to get off!
This is what you will be left with if you take is off slowly... just a bit of dirt.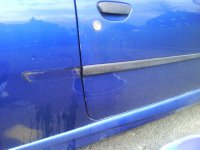 Just clean the dirt and its done! but if you rush it you will be left with a sticky adhesive strip...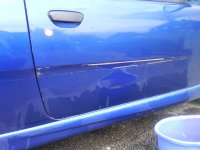 Step 3
To get the adhesive off just spary it with WD40 and leave to set for 5-10mins, then you should be able to scrap the adhesive off with your nails.
And thats it! Job Done!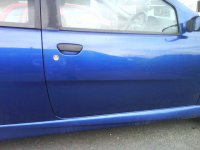 Before and After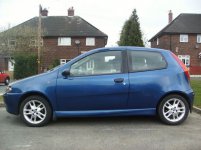 Last tips
Make sure you remove the strips slowly!!!
If the worse comes to the worse and you don't like the outcome you can stick the strips back on with some more adhesive!
If I've helped you out feel free to give me a huge thumps up thanks!