It's always more involved
Joined

Feb 5, 2016
Messages

4,278
Location
So a simple job just got way bigger, needed to replace the snapped off rear bump stops, already had new springs so along with the new stops went ahead and replaced the drivers side without much issue apart from getting the mounting lug into its hole for the stop which took some effort, moved onto the passenger side and had the " Oh S***t " moment,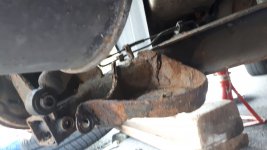 I've decided rather than go for the newer type of suspension from a breakers, given my new springs would not be compatible and possibly other bits too I'll go with a replacement of what we already have, anyone replaced one and what issues might I have, do I need to remove the stub axles IE those 4 big bolts obscured by the drum brake mounting plate? What brake pipe issues might there be?
Baglady, you should check yours as I think i remember your car is only a year younger?
Wish me luck
https://www.imaxle.co.uk/new-fiat-5...prwqASqa4CRgmjvLaPWqVjc0lqFlPEcoaAsYJEALw_wcB
Last edited: