Joined

Feb 16, 2005
Messages

5,983
Had a problem for a long while with not 100% brakes. Problem is now worse after doing the rears.
Put it down to various problems and my inability to bleed properly
I have tried manual, 2 and 1 man, and pressure bleeding.
I noticed for the last few times when i put the eezibleed (pressurised bleeder) on the reservoir, i get leaking around where the tank joins the master cylinder. Last time i tried, i dumped a load of fluid on the drive lol
It may just be down to the pressure of the system, but this may be highlighting my long term problem.
Here's an exploded pic: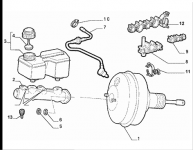 It looks like these seals are part of the master cylinder....can anyone confirm?
not too pricey if it is....£25 for MC, and £10 for new tank, direct from fiat.
I was thinking though....the ABS versions have same booster part number, but MC is different. Anyone know if it is bigger?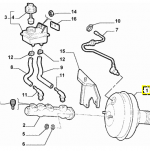 It would be a bit more work to install, but would be compatible with the servo and looks pretty much the same design. if it would be better..not a clue lol
Ideas and thoughts?
Cheers,
Kristian