Joined

Oct 1, 2017
Messages

5,591
Location
A builder friend skimmed the ceiling as his local gym to cover the artex. Nice little job. A month later he had a call... Some of the new skim had fallen off complete with Artex and hit a client. No major worries but he now had to fix the problem. He suspected the wet plaster had caused the Artex to separate so none of it was safe. At his own cost, he boarded out the whole lot and plaster skimmed. All done at night because the gym was open 6 am to 10 pm.
That's very interesting. A few years ago our central heating just suddenly stopped working - in midwinter of course! Luckily I have a friendly helpful plumber friend who came and cut four holes in my kitchen and utility roof ceiling, found the blockage, cut out the bits of blocked pipe and let in new pipes. The two worst blocked pieces were where the pipes did right angled turns so I patched up the two smaller holes and decided to fit hatches where the bends in the pipes are just in case we ever needed to get at them again. Here's the one in the kitchen: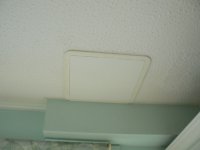 it's held in place largely by a ring of adhesive around that outer frame. After fitting it stayed up for about 3 days and then started to come away so two sides were clear of the ceiling. It only took a small tug to remove it and then I could see that it was the bond between the artex and ceiling which had failed, not the newly applied adhesive. I took the other hatch down - it nearly fell down on it's own, - and cleaned all the artex and adhesive off them both. I rubbed the ceiling with sandpaper 'till it was through to the plasterboard, applied new adhesive and pressed the hatches back into place. They're solid as a rock now.
I've heard other tales of how difficult it is to deal with this stuff and made my mind up years ago to just live with it, actually it doesn't bother me at all - it's just a little more difficult to decorate than a flat surface.