Joined

Oct 1, 2017
Messages

6,285
Points

1,885
Location
I've posted somewhere else on the forum about the starting problems my older boy has been having with his Punto - 2012 1.4 Punto easy - which we have convinced ourselves is down to it's nearly 9 year old, original fitment, battery. Unfortunately it's a stop/start so needs an EFB or AGM type battery. The AGM is reputed to be the better option but when I looked at prices i quickly decided it was going to be an EFB. The present occupant is an EFB anyway, so that'll do me. I did a lot of research (better part of a day on and off the laptop) and found the Tanya people, who someone on here recommended to me, were going to be my best bet. However I thought I'd try Kenny at the garage just to see what he could do for me.
No problem said he, I'll do you a good quality one for around the £80 all in. By now I'd got a bit fed up with looking and I trust him as he's been good to me in the past so I said OK.
I've just been round to pick it up and I'm quite impressed. At first I was slightly alarmed because I'd never heard of the brand - Omnicraft - and I thought "Oh dear, silly boy Jock" but it turns out it's a Ford product (made in Germany it says on the label and they have a very big plant at Cologne don't they?) :
https://www.autobiz.ie/garage/ford-introduces-all-makes-omnicraft-battery-programme
So I'm feeling very happy now. I do notice an "order date" of July 2020, don't know if that's when it was commissioned? Anyway bought and paid for now so? Kenny tells me he uses them all the time and has no issues with them.
Here's some shots of the labeling on the actual battery which is sitting on the garage floor getting a top up to full charge on the CTEK before I fit it tomorrow morning. - raining and very wet out there just now. :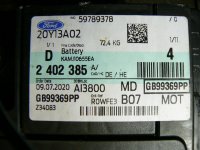 As would be expected the charger went straight through the diagnostic light and on up to the final charging light very quickly so indicating the battery to be in good condition and virtually fully charged. I'm not expecting the top up to take long at all. In fact It could be fitted exactly as supplied and I'm sure there would be no problem but it's going to do it no harm to start it's service life completely fully charged. And the price I hear you all asking? £70 plus VAT so £84 all in. I'm delighted with that. The old battery was a 63Ah capacity jobbie with a max cranking amperage of 450 amps. this new one is very slightly down on capacity at 60Ah but that's so small as to make no never mind. Interestingly the cranking amps is vastly superior at 560! that poor wee starter motor is going to feel positively bullied! Going to be interesting to see if the stop/start, which has never worked in all the 3 odd years he's owned it, now starts working! If it does I'll have to show him how to turn it off!
Last edited: