This one took a bit longer to test and complete, but I'm happy to announce that today is the official launch of the new forum
garage
Whereas before the Members Motors was just a simple thread per vehicle, things are now moving into a database/CMS type system so they can be much more easily organised and displayed in cool ways.
Don't worry! The threads still exist, just the first post of a thread is now the link to the garage section - but discussion continues on like it used to and will show up as normal in new posts.
It's going to take me a while to convert all the old entries (they need to be done manually!) but I will go through them in batches, if you want yours done sooner just drop me a PM and I'll prioritise you.
Seeing is believing, so here are some I prepared earlier...
The garage homepage
All my vehicles
The one that started it all
Example update page
A quick "How-To" Guide
Intro
Posting a new vehicle
Posting vehicle updates
Adding an existing MM thread to the garage
Intro
So as
linked above
, you can get to the new garage by following the link in the header menu which will take you to the main listing page. This will then show you all the vehicles we have, listed chronologically with newest first. You can use the navigation section to jump to types (Cars, MPVs etc) or if you want to see a particular model, click on the "Filters" menu on the green bar, then select the prefix (model) you want to see.
Viewing a vehicle is as simple as clicking on it, then use the sub menu at the top to get to the different sections:
Posting a new vehicle
From either the
garage
or the
Members Motors
forum, simply click the
button then choose the type of vehicle from the popup: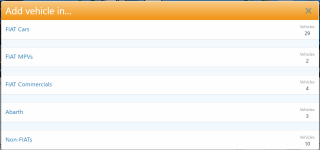 The next page is pretty self explanatory, but with a few caveats:
Prefix:
Make sure you pick which model of vehicle you have otherwise it won't be allowed.
Images:
Use the
button in the "General Information" section to upload your images. The first image you attach will be set as the main thumbnail image, so choose a good one! (This can be edited afterwards, but why not just do it first time around
)
Linking with openPER (ePER):
If you want your vehicle to be automatically available in the
ePER
system, you'll need to fill in the
VIN
and
Registration
fields found in the "Additional content settings and options" section. This will then make it be listed in the "My Vehicles" menu on
ePER
.
You don't need to write about every single thing you have here, some of those might be better suited to
Updates
, which have their own section below.
Once you're done and created, it will look something like
this
.
Posting Vehicle Updates
This is the really cool part as now when you update your vehicle, it will get its own "update entry" with separate gallery, no need for someone to browse all the comments in your thread to find the good stuff, it's now all in one place. Of course if you are just doing something simple or don't think a whole update entry is necessary you're free to update your MM thread, but just bear in mind it won't show up in the garage.
To make an update, go to your vehicle and simply hit the
button - fill in the details, attach the new images and boom, all done. It will update your main thread to let people know something has been done, add the count to the "Updates" menu tab and then add your update to the list, like
this
.
Adding an existing MM thread to the garage
If you already have a Members Motors thread that you want brought into the garage, no problem! Just send me a message I'll be able to get that done for you. At this moment in time, there is no way to import an "update" entry, so just the first post will be brought in (the rest of the thread will stay intact) - but as soon as the software release comes, I will then go through again and import any of your updates
Last edited: