Introduction
Alright guys! I've been lurking around on here for the last 12 months since I bought my motor and thought it was about time I started contributing!
I have shared Chirpy with my partner since we bought her but now she's moved on to the weird and wonderful world of Vauxhall which leaves her all to myself!
So I'll start by showing her off, meet Chirpy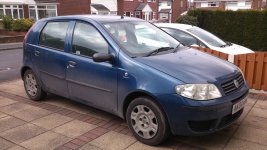 I have loads of ideas in my head of how I want to personalize my Punto. So far I'm thinking -
Buy a set of sporting alloys and paint matt black.
Paint calipers and drums, red possibly.
Remove door trims.
Remove chrome badges.
Buy a de badged grill.
Colour code wing mirrors, or Matt black.
Paint door handles to match mirrors.
Colour code bumper trims.
Tint windows, very unsure on this one!
Fit a sun strip, possibly black.
Fit xenon bulbs.
Plenty for me to get on with for now and any ideas/suggestions welcome!
Sutty
Ps the daft name wasn't my idea, it was my better halves, but has kind of stuck