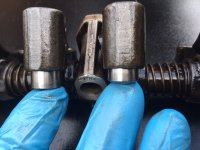 I have just removed the rocker shaft from our 21,000 mile P-reg 899cc Cinquecento SX to check the dreaded noisy hydraulic tappets and I can see that some are 'shorter' than others - see photo.
Is this because something internal has collapsed, like a spring? I'm assuming the 'shorter' ones are dead and need to be replaced.
Any inside knowledge gratefully received!