Introduction
Hi everyone! :wave:
I have just bought myself a Grande Punto Sporting T-Jet that I am in love with! :woot:
I had a MK2B before this so you might have seen me about in the MK2/MK2B section, but I have been saving and looking for my perfect Grande for ages now, and this one came up for sale on Thursday and I bought it Friday!
Anyway here are some pics of the car when I went to test drive it: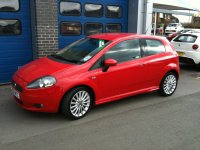 I pick the car up on Friday, think I'm gonna go mad waiting that long!
Anyway the only plans I have so far are some small modifications as I am now broke after buying the car. Ahhhh
Hope you like it, and I look forward to being part of the Grande community!
Elliott.