Joined

May 9, 2018
Messages

3
Hello everyone
I am Anton.
And i think it will be interesting to owners of Bravo , Tipo and Panda to know that i developed contactless throttle position sensor for this cars.
It also suitable for VW, Lancia, Citroen and Peugeot.
Here is a photo of the kit i made

And this kit perfectly fits on cars with manual and AUTOMATIC transaxle because it has voltage-angle output for automatic transaxle ECU
It has a bluetooth for precision tuning and with a special software you can virtually rotate this sensor with a resolution of 0.1 degrees
How it could be possible and how it could work without contact-brushes?
This was a first questions of one of mine friend , when he saw my new TPS at first time.
No, i am not kidding!
Contactless sensor is real, all we need is to install bushing with magnet on throttle spindle.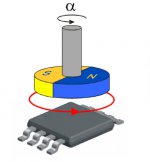 The principle of operation of this TPS Converter is based on measuring the angular position of the magnetic field of the magnet which is mounted on the throttle shaft.
Onboard Hall sensor measures the rotation of the magnetic field (and accordingly the rotation of the throttle axis) in space in degrees and transmits this value to the MCU which converts the measured value of the throttle angle into an electrical signals.
The characteristics of this signals are absolutely identical to the signals of the Bosch sensor 3 437 022.
It has onboard protection from overvoltage, reverse polarity and short circuits.
There are no difficulties with installation and everything is quite simple.
Here is an example of installation on bottom part of MonoMotronic injection unit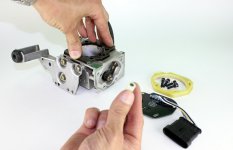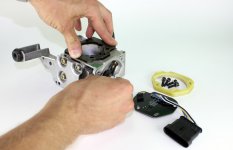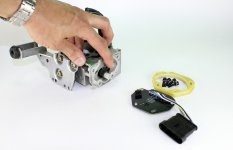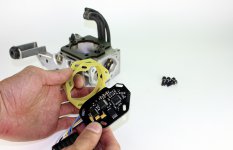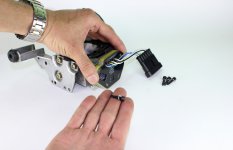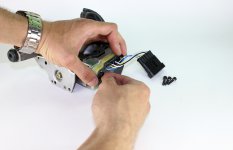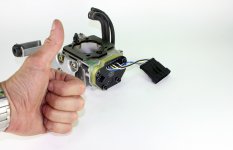 Wiring is also is very simple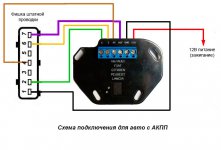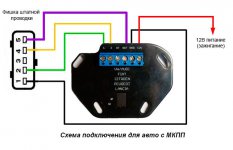 Tuning software screenshot
Does anybody interested in it?
P.S. Also i can develope contactless TPS for other vehicles - the principle will be same. The difference is mounting and firmware.
Last edited: