I shall try and keep this short and simple.....
According to fire brigade statistics 100,000 cars a year catch fire...... And 100 People a year die as a result of car fires.... Fairly grim reading im sure you will agree......
So what can you do.....
Make sure your car is well serviced, and that any oil/ fuel/ fluid leaks are dealt with immediately and any build up of oil / grease in the engine bay is cleaned away and check the fuel lines are in good condition....
Reduce the amount of fuel and a fire will likely only be small....
Next ensure your wiring is sound and not bodged, faulty wiring is a big cause of car fires
And take great care if you are a smoker if you drop a tab end or hot ash falls onto your seats soak the area with water/ coke or the like immediately the embers can stay hot for hours and start a fire hours after you have parked the car up....
That reduces the risk as far as you can go really......
So your in the market for a in car fire extinguisher walk into most motor factors and they will have several to choose from but which one.........
What ever you buy should comply with EN3 standard (which replaces the older British standards)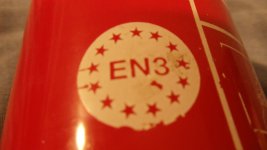 Ideally it should also hav pressure gauge so you can check it still has "charge" (also read the instructions about servicing the unit often its more cost effective just to replace the unit as and when required some also have an expiry date printed on them)
Before settling on an extinguisher conceder the bracket supplied with it, The last thing you want is it managing to rattle loose and roll around the drivers foot well or flying about and cracking you in the back of the head if you are unlucky enough have an accident some of the most secure come "MED" approved (its a Maritime certification which also assesses the security of the bracket taking into account rough seas)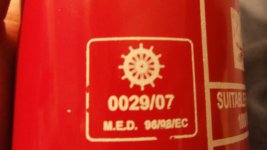 Also think about how it's made give it a shake does it rattle usually the metal handled ones do and it will drive you mad on a journey
There are three "classes" of fire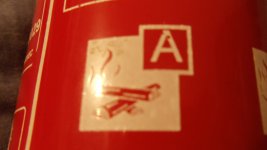 Class A = Solids (wood/ plastic/ material/rubber)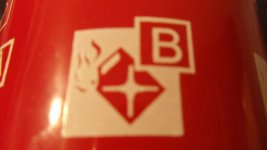 Class B = Liquids (petrol/ Oil)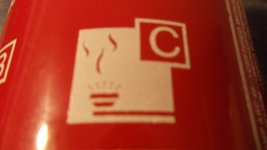 Class C = Gas (lpg, mains gas,)
There is also a electrical symbol on some units but that is not relevant to a car....
so for a car you are looking for
In my opinion you should be looking at an extinguisher no smaller than 1kg Dry powder / 2 litre AFFF Anything smaller probably wont be up to the task in hand....
(some track days insist on a larger unit if your buying one for that check with the club before buying)
To obtain the EN3 standard they are tested in controlled conditions and "rated" according to the extinguishing power they have for classes A + B
eg a 5A fire looks like this
a 13a looks like this
a 34B fire is this big
As you can see here the bigger extinguisher can extinguish more...(obviously but some extinguishers might look big but using poor quality extinguishing mediums preform poorly against better rivals) Worth baring in mind many big 9 litre water extinguishers are rated at 13A
which is the same extinguishing potential as most 2kg dry powder units have on class A fires so bigger isn't always better.....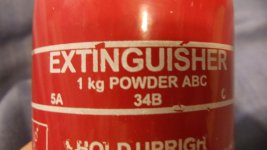 The main types suitable for car use are
Dry Powder and AFFF Foam..
Dry powder provides a very rapid "knock down" of fires it works by interfering with the chemical reaction between the fuel source and air by a process known as "free radical Inhibition"
HOWEVER there are 2 common types of dry powder on the market
BC and ABC
BC is suitable for fuel fires and Gasious fires and was ideal in many older cars where the engine bay was mostly metal
But on modern cars there is also a lot of textiles (used in sound proofing) and plastics So you want something that can also cope with class A fires this is where ABC powder comes in it works the same as BC powder but This type of powder also melts on contact with hot class A materials and provides a skin to exclude oxygen....
As good as it is. On a fire that has taken hold it is likely that the fire can reignite with this type of extinguisher as once the cloud of powder disperses the reaction between the fuel and the air can re-establish and if there is still sufficient heat the fire can reignite. But has its advantages in a confined engine bay you don't always need to be able to see the seat of the fire for it to work and can be used successfully on a "flowing" oil fire....
AFFF on the other hand will prevent a fuel fire from reignition as the chemical agents form a film and seal the vapours from the oxygen been water based it also provides rapid cooling to the fire area again helping reduce the chance of it flaring up again.... However been water based it can freeze in cold weather and this can wreck the internals of the extinguisher (check the label some are frost protected) And can be more tricky to apply when you cant see the base of the fire It makes less mess and makes subsequent clean up an easier affair .... And is not effective on a flowing fuel fire as the fuel movement disturbs the Film of foam
What you pick is up to you but you will see that dry powder is often a higher rating per unit size than AFFF and Doesn't freeze.....
Other types such as CO2 are no real use in the car they are too big and in the case of Co2 on a windy day they will be useless
Once you have your new shiny red bottle home its better to be mounted in the car.....
Ideally it wants to be within reach of the drivers seat going to the boot to get it wastes valuable seconds. and if its an serious electrical fault and the boot release is electronic you are not going to get to it......
It needs to be secure too and not get in the way or be at risk of damage....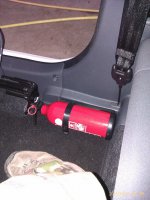 It should be checked often to ensure its still serviceable check the gauge is still in the green sector and that the pin is still in place along with the tamper seal also check the jet is clear.. And in the case of dry powder given a good shake every so often to stop the powder becoming compacted.....
How to use.....
If your out and your car catches fire First things first your life is worth far more than your car so do not put yourself at any un due risk!
Stop the car in a safe place and put on your hazards
Get everyone out of the car and get them to stand well back
Ensure the fire service is called.
At this point if its still a small fire you can try and put it out......
If its in the cabin
Grab your extinguisher (you should be familiar with it now is not the time to stand there reading the instructions)
Generally you employ the PASS method
Pull the pin out
Aim the jet at the base of the fire
Squeeze the handles or lever
And sweep from side to side over the fire area aiming at the base of the fire not just at the flames
In the engine bay pull the bonnet release catch (BUT DO NOT OPEN THE BONNET) by doing this you have created a gap to aim your extinguisher through and discharge the contents sweeping back and forward along the gap..
Only if your totally sure the fire is out should you attempt to open the bonnet and tackle any hot spots if not 100% sure wait for the fire service as opening the bonnet can lead to an inrush of air causing the fire to re light and the now half open bonnet will force the flames straight at you....
Oh and one last time you get what you pay for this was a "extinguisher" i picked up a few years ago to play with based on a Aerosol can showing pictures of a burning car thought it might have at least been able to handle about 1/2 a pint of petrol when in reality all it did was spread the fire.. it worked ok on burning paper however ..........