Joined

Oct 1, 2017
Messages

6,702
Points

2,031
Location
I'm always very interested to hear of products and experiences had by others, especially when it's about a tool or product someone can particularly recommend. So it occurred to me some of you might be of the same turn of mind and might like to hear a recommendation for the product I was using yesterday to prepare my garden benches etc for the summer - see my thread about "Tap Tribulations".
Over the years I've experimented with many different products for protecting and "beautifying" stuff made from wood which is staying outside in the garden all year round. Some have worked quite well whilst others have been a complete waste of money. A couple of years ago, or so, we needed to apply a good quality product to my boy's garden room (posh shed) to comply with the shed manufacturer's warranty conditions. I'd just recently painted my own humble shed with one of the water based products from a well known retail source - not a Barratine product - and within months realized I'd wasted my money. I'd heard good things off Barrattine products, looked at their website and read some reviews and liked what I saw so bought this:
https://www.barrettinepro.co.uk/25/266/nourish-and-protect-wood-protective-treatment
in the Holly Green colour. We applied two coats over a two week period and it's only now, after nearly 3 years, beginning to look as if it could do with a wee touch up round the edges. I think if we give it another coat it'll probably be good for around 5 years.
So the Barrattine brand is one I think highly off and when it came to doing my garden benches and two little side tables I went back to them for recommendations. They recommended this:
https://www.barrettinepro.co.uk/25/295/Garden-Furniture-Oil
and I am very pleased indeed with the outcome. Last spring I gave them all - 3 benches and 2 tables - a couple of coats. The two benches and tables with cast iron frames I've had for years and the wood was well dried out so the first coat was completely absorbed within a few hours. I gave them a couple of days to fully dry and applied a second coat which dried to a semi shine within about 3 days. the Newer bench, the one with the bent steel frame and lighter wood, is much newer and only needed one coat which took about 4 days to dry properly. Being an oily product it does take quite some time to dry fully but it also contains resins so once dry it doesn't leave an oily residue as long as you apply it sparingly.
This year, yesterday in fact, I gave them all one light coat and already they are nearly dry enough to use. By tomorrow They'll be fine. I particularly like how, being an oil rather than a pigmented product, it lets the wood's natural colour come through. Here's some pictures:
First Mrs J's favourite. Right beside the back door and in a proper wee sun trap:
Often too hot for me though if the sun is shining so I prefer this one down the bottom of the garden by my shed: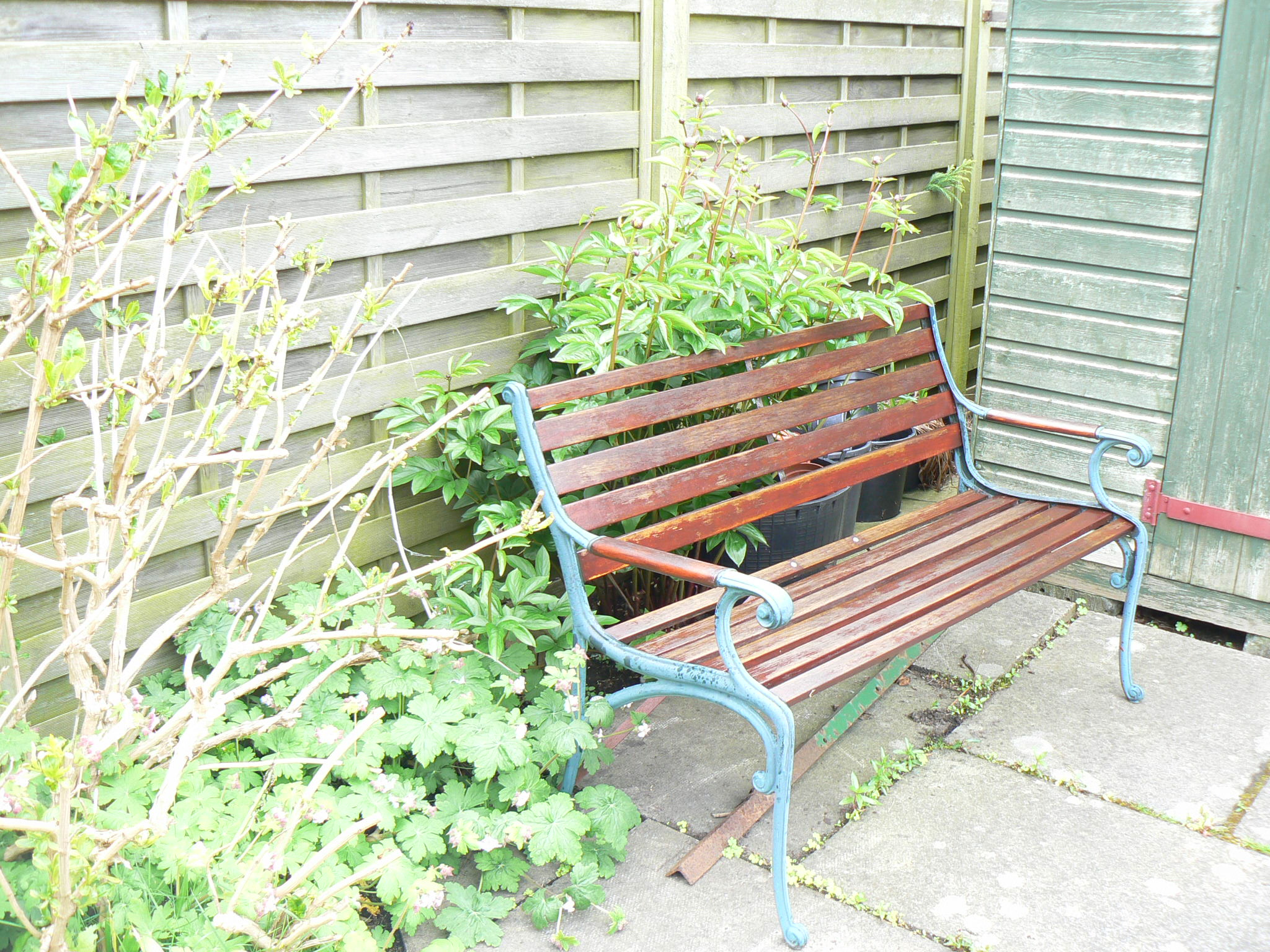 The peony behind it will bloom soon and puts on a great show with it's large pink flowering heads.
The newer bench sits to the other side of the back door against the fence and clearly shows how the product allows the different original wood colour of this cheaper bench to show through: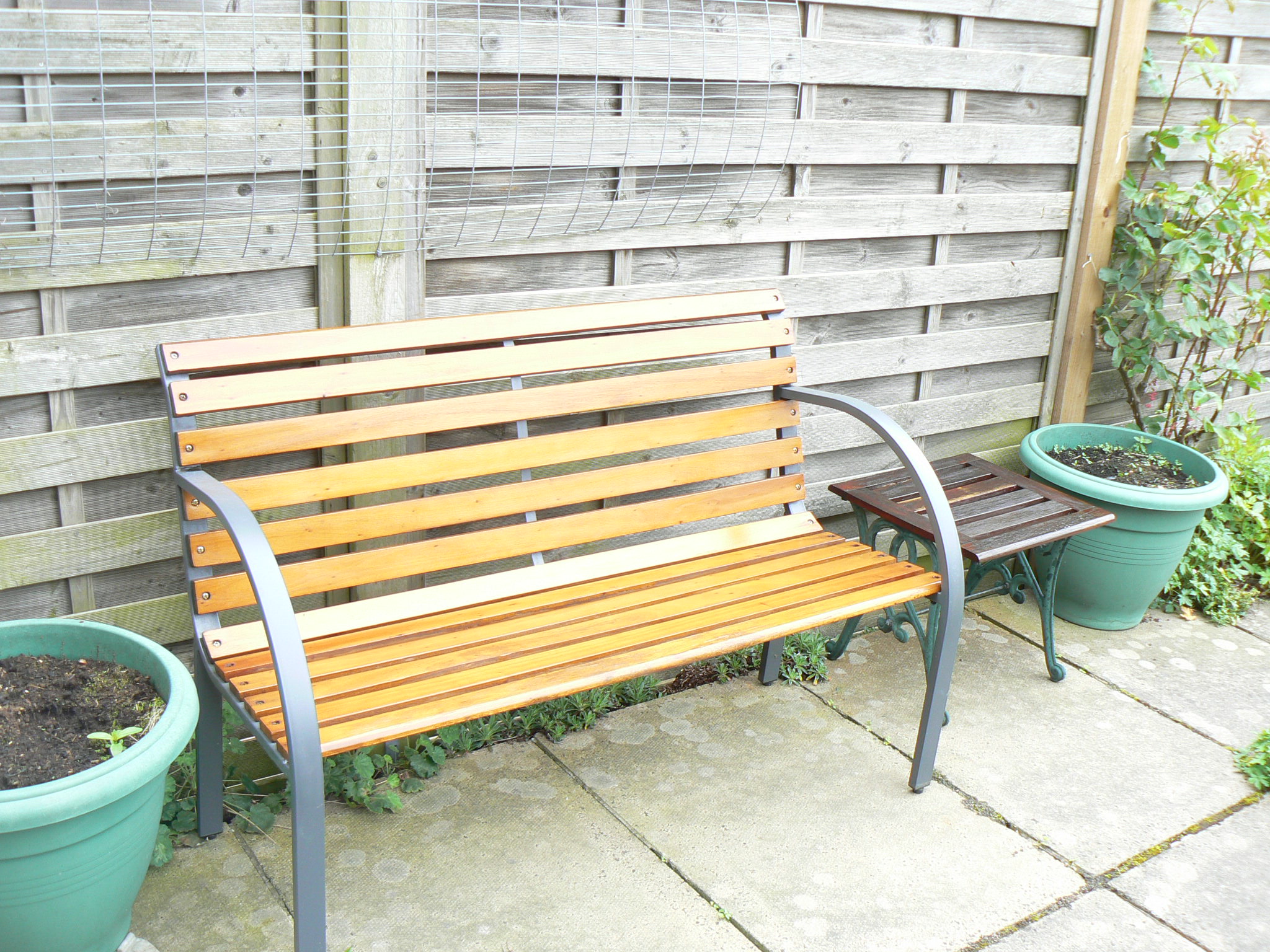 Looking back over this post I'm thinking - should I be painting the cast iron frames? Maybe they look just fine the way they are though? I think a bit of weeding is more of a priority? By the way, I bought a one litre tin of the stuff and only now is it nearly finished. The first time I used it the wood really soaked it up and I used about two thirds of the tin. This year, with the last application having sealed it all nicely, I gave them all one coat and have just a dribble left in the bottom of the tin.
I hope that was of interest to someone. Maybe I'll go and do some weeding now before the rain sets in - weather forecast says it's due soon but should clear up again later this afternoon.