Joined

Oct 1, 2017
Messages

6,014
Location
I carry some just because it's cheap. But it doesn't do anything well on cars

I repaired loads of mechanical equipment that have been gummed up by both WD or 3 in 1

It's rare that soaking does anything if the parts have grown together the is no way any oil can get between the parts
It's strange isn't it? Most of us who've been "fiddling" with mechanical "stuff" for any length of time know about WD40 and know that, as you say, it doesn't do anything very well. I bet most of us still have a can of the stuff lying around somewhere though? (I've got 2)
When I was young 3in1 was my Dad's go to lube. There was always one of those small tin cans with it's spout in his drawer of stuff in the kitchen - He wasn't a DIY sort of person. However as the years have gone by I've noticed it leaves a strange brownish sort of deposit as it ages which does "gum things up". It's been years since I've used the stuff but I still have an elderly, almost empty, aerosol can of it somewhere in the garage.
A few years ago I discovered this stuff which has now become my weapon of final resort as far as releasing fluids are concerned:
My motor factor sells it and it works extremely well, at least as well as Plus Gas which has been my "go to" for many years. As a releasing oil it's pretty good but it also induces movement between the fitting and whatever it's screwed into by chilling it. It's drawback is that you have to use quite a lot of it if the chilling effect is to be significant and especially if the component you're working on has much bulk so I reserve it's use for extreme situations and use the Plus Gas for less extreme situations. Here's the instructions: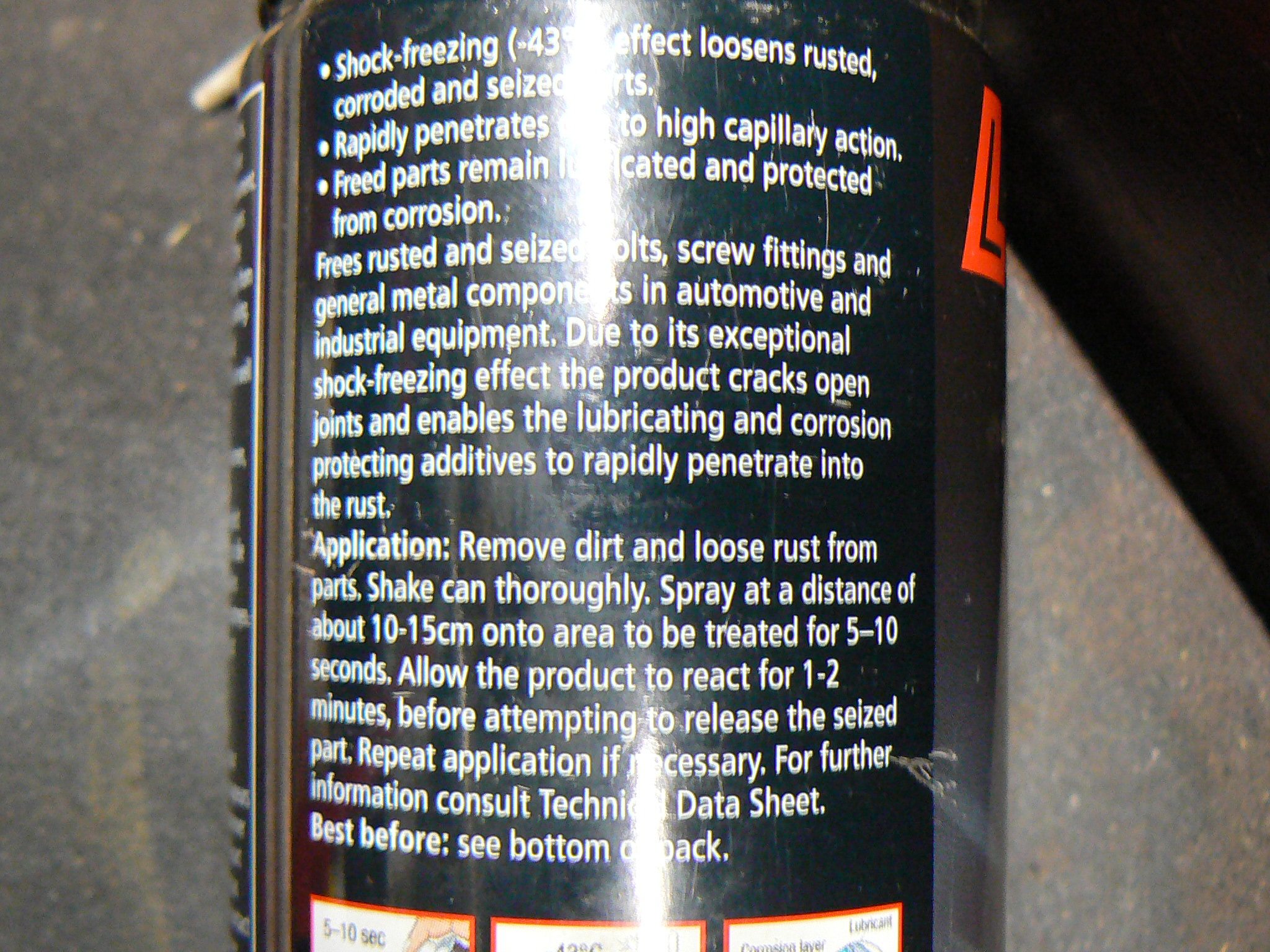 You'll notice they recommend 5 to10 seconds spraying which, when you're actually doing it seems like forever. On something with a bit more bulk - like, for instance the lower shocker bolt on the rear axle of the Panda - I'd be giving it a couple of 15 second squirts with a 10 minute pause between spraying for the temp to come back up again before "hitting" it with the second spray so could use about half a can on each bolt. As many of you may know, Our Becky's rear axle is very crusty. I was going to clean it up and paint it with something like Waxoyl as a temporary measure to delay "the inevitable". However when I had a really good look at it earlier in the summer, I think it's too far gone to be worth spending much time and effort on it. I decide I would just fit an I M Axles pattern part but got so involved in my boy's house extensions that the time has just slipped by and I've done nothing about it. Hoping it'll not fail it's MOT in the early new year and when the good weather comes back next year I'll be getting it done.
I've thought a lot about how I'm going to tackle these very rusty looking bolts. The lower shocker bolts look very rusty but I'm not too worried about them because, as I'm replacing the axle, I can afford to get really violent with them. The front mounts worry me much more. I'd intended to undo the 6 bolts that hold the two brackets to the floor but I'm worried they may snap off in the body. so, as PB suggested the other day, I'm going to try loosening the two pivot bolts first and see if I can drop it leaving the chassis brackets in place. I'll need to remove these brackets from the old axle anyway as they don't come with the new axle. In the past I've had considerable success with stuff like the bottom shocker mounts by first "hitting" them with my air hammer for a couple of minutes, then spraying them with release oil (Plus Gas) and, after letting it soak in for maybe 15 minutes, hitting it again with the air hammer. I'm talking air hammer here, applied axially to the end of the bolt and sideways to the area where the screw threads are. I'm not talking about an impact wrench here by the way. I'd use the impact wrench to undo the fixing though as the hammer action helps too.