The
Fiat
Multipla is the name given to two different cars manufactured by
Fiat
, the first from 1956 to 1965, and a more recent version from 1998 to the present.
Original Multipla (1956–1965)
The original Multipla and the 600 Multipla were based on the
Fiat
600 drivetrain and sat 6 people in roughly the same footprint as the original Mini Cooper. The driver compartment was moved forward, eliminating the boot in effect but giving the body the MPV look.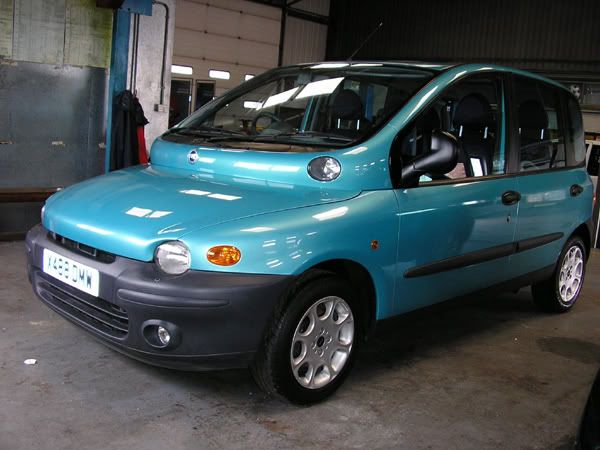 The modern Multipla (1998–2004)
Based on the Brava,
Fiat
's offering in this size of car was quite unlike any other on the market. It has six seats, three on two benches. The exterior and interior design of the Multipla is unique and has a polarizing effect—some people love it, many hate it. Nonetheless, the Multipla was displayed at the Museum of Modern Art (MOMA) in New York during its "Different Roads - Automobiles for the Next Century" exhibition in 1999.
The 1.6 L petrol and 1.9 L
turbo
-diesel engines give the Multipla good levels of performance and refinement, and the chassis ensures entertaining ride and handling. A "Bi-Power" Multipla that runs on both petrol and LPG is offered in certain markets.
Multipla sales began in Italy late in 1998 but most other markets had to wait a year before receiving imports. The power of the
Fiat
badge meant that the Multipla was an instant hit with Italian buyers, but its styling meant that sales elsewhere were less successful.
Six years after its launch, the Multipla had a major facelift to shed its original styling for a more restrained look, which
Fiat
perhaps hoped would attract more buyers.