The Witson Radio is a significant upgrade to the stock Panda media centre.
The original has BT, AM/FM, and benefitted from steering controls, but, it lacked the certain features found in other vehicles of its year (2020). A few other things that miffed me off were the poor sound reproduction, and orange screen. Although, there's a lot to be said about simplicity and reliability, the offering was too little to let me keep it.
The new unit was purchased from AliExpress straight from the manufacturer:
Smarter Shopping, Better Living! Aliexpress.com
www.aliexpress.com
The unit arrived from China within about a week, end delivery by Yodel.
The build quality seems to be pretty good - close to the supplied unit.
A tonne of connections are provided, including Panda specific looms and canbus thingie.
This unit is capable of:
Digital radio (Not being installed as I feel it's limited and poo)
Front camera (Not being installed on account of having a windscreen and functional eyes)
Reversing camera (Not being installed as this vehicle is so small, I feel it's extra work for something not needed) - It's to be noted - this unit comes with a camera which I believe could be used either as front or rear cam. The camera requires its own power source separate from the head unit - which made this a 'bridge too far' for me.
Onboard GPS (With its own antenna supplied)
Handsfree (With its own ext Mic, and playback via vehicle speakers)
Handoff from Apple / Android
Analogue Radio
USB input
Video in
Video out (I guess for rear screens)
Sub Woofer / additional speakers outputs
There is no instruction manual with the device - although - it does come built into the unit - which ironically, needs to be installed before reading it.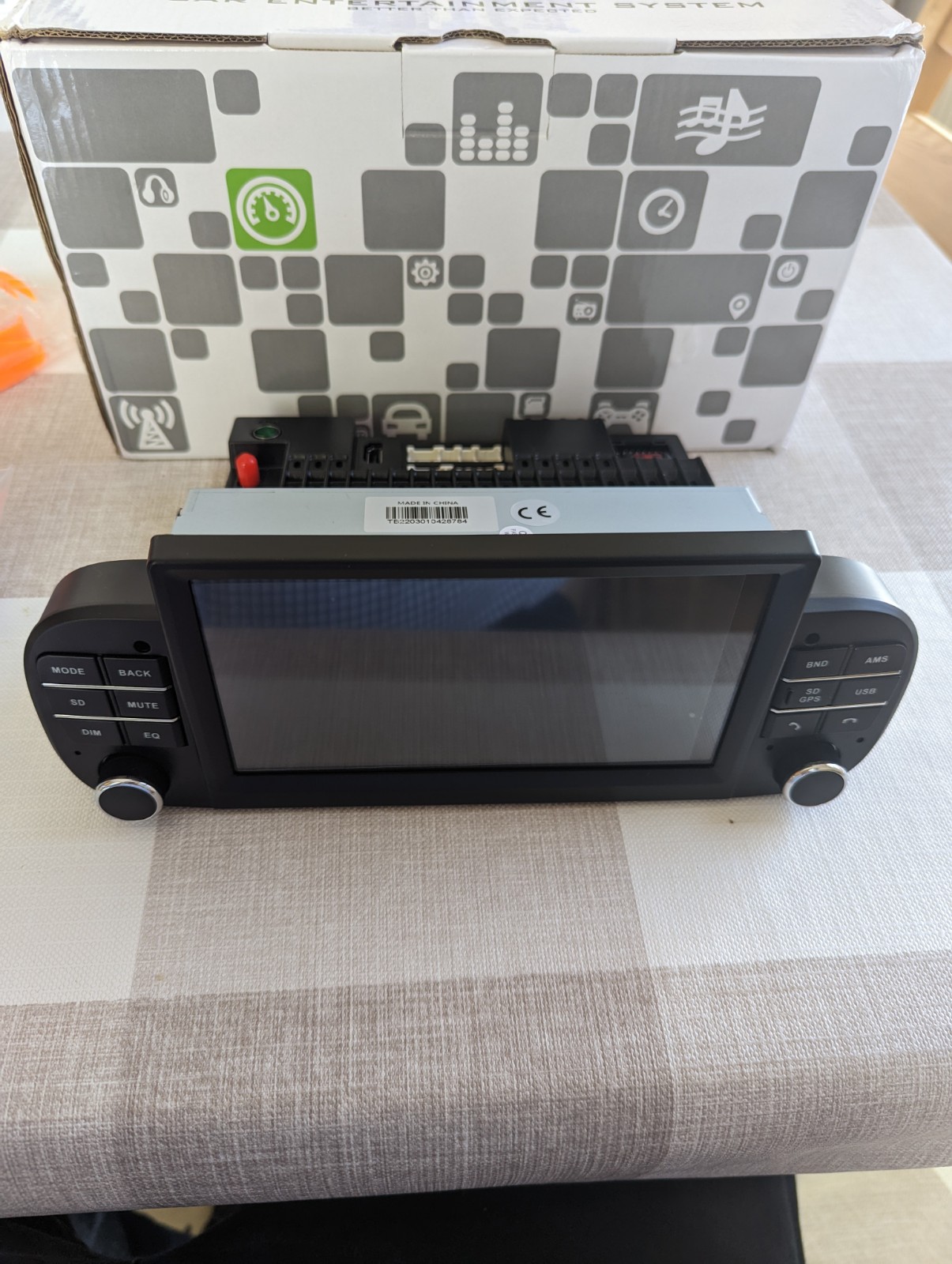 Removal of the fitted unit is by using two BBQ skewers (Mis-spent childhood) - inserting into the hole bypasses the locking security feature. A plastic wodgit is then used to gently pry the unit out. (Plastic wodgit set comes with this unit).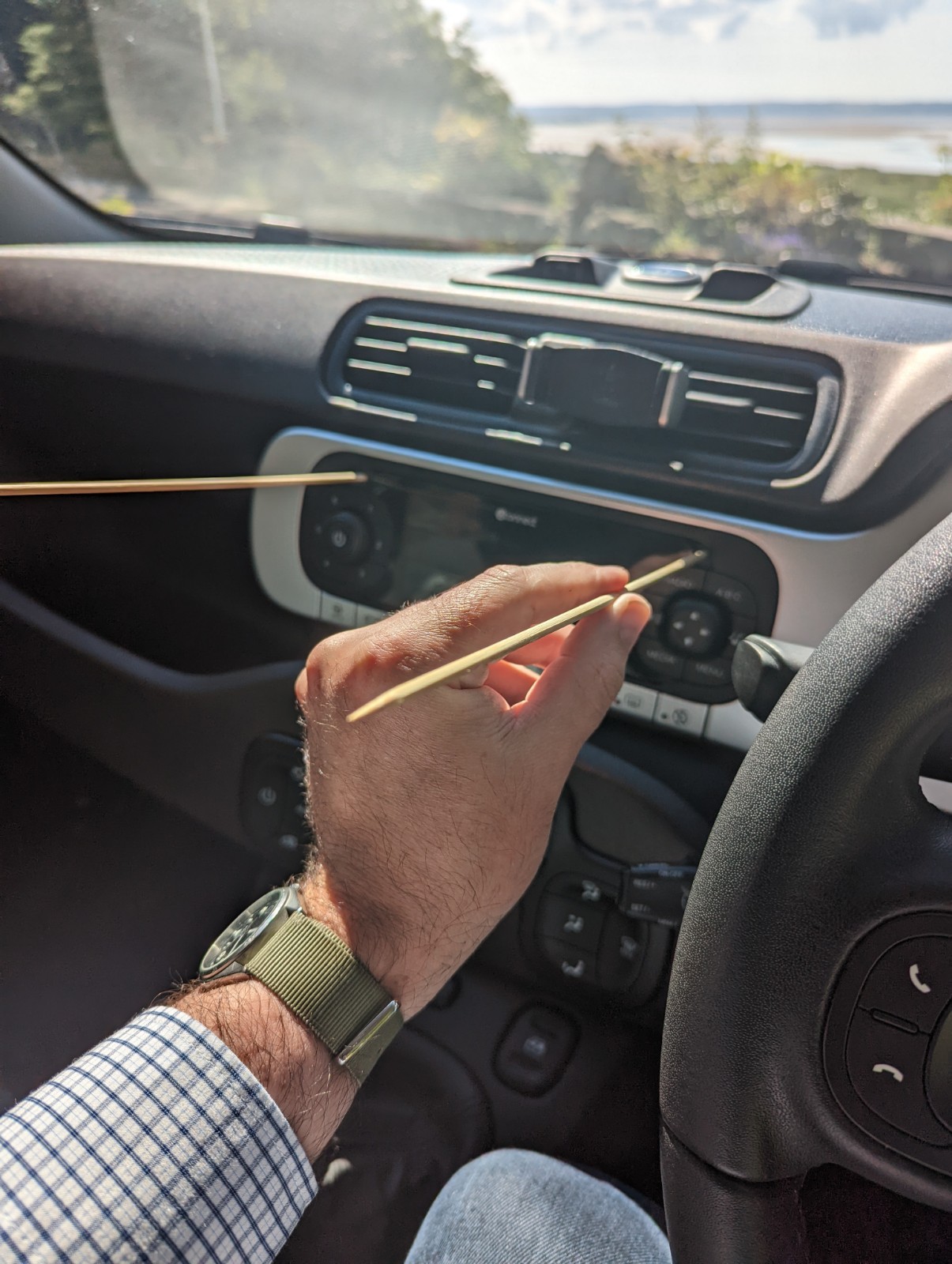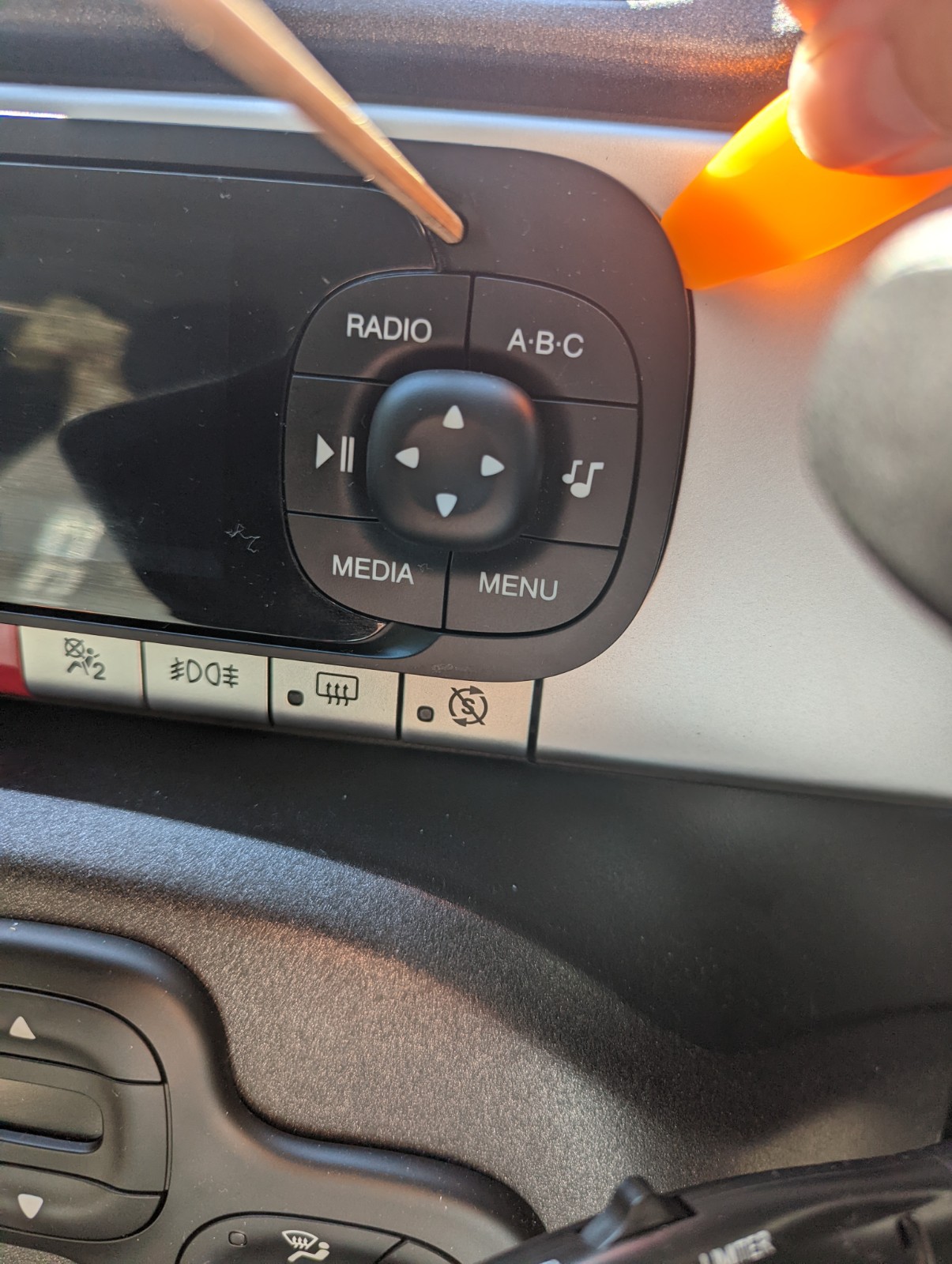 Once out, the cables need disconnecting from the old unit.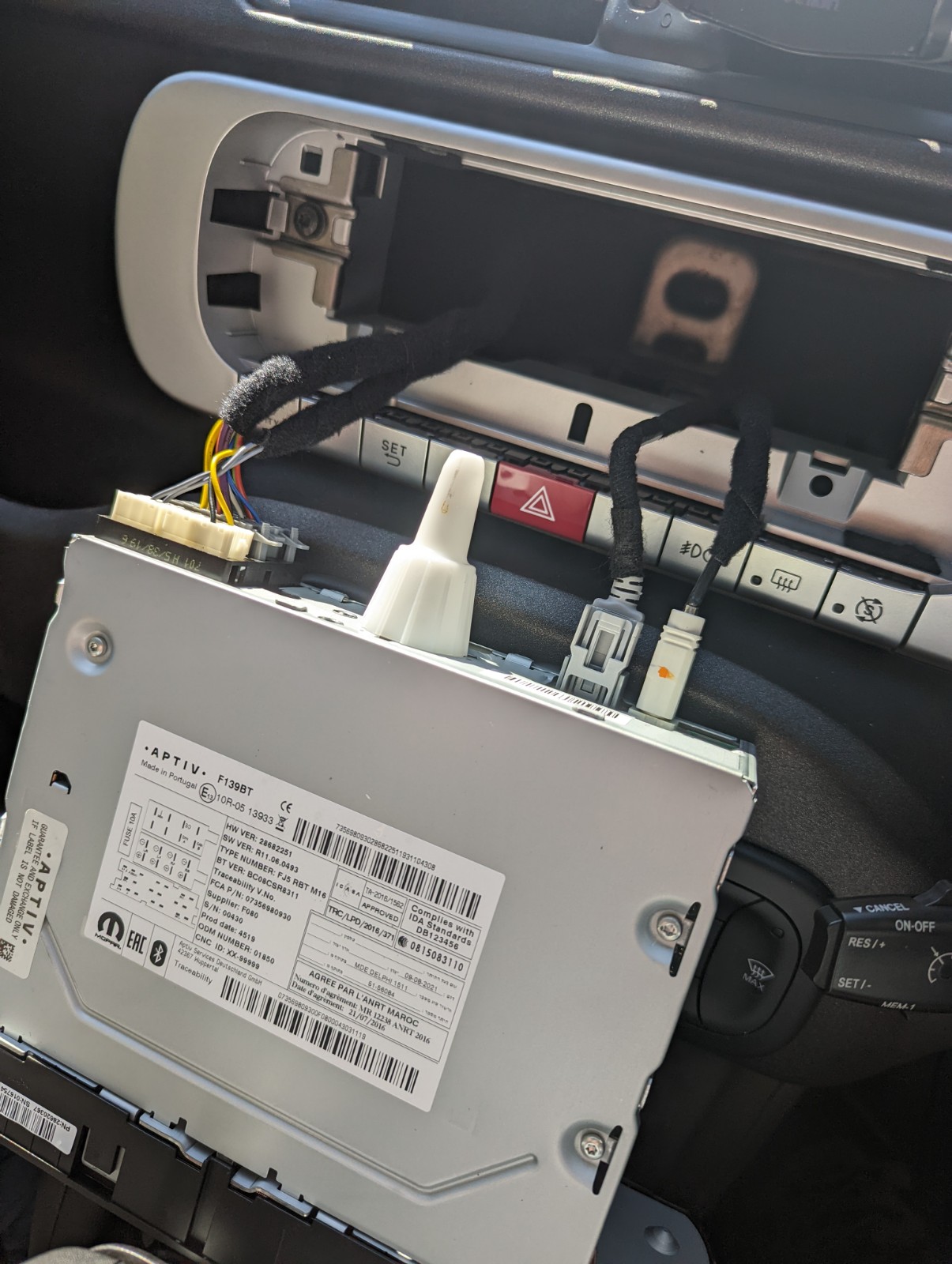 And the new loom connecting. The new unit has 2 USB inputs, one is intended for a DAB radio antenna, the other for USB / Phone. The input connections on this unit differ from the Fiat top dash USB (Grey cable connector on above picture). It could be adapted to fit the USB I think. This I may do at a later date.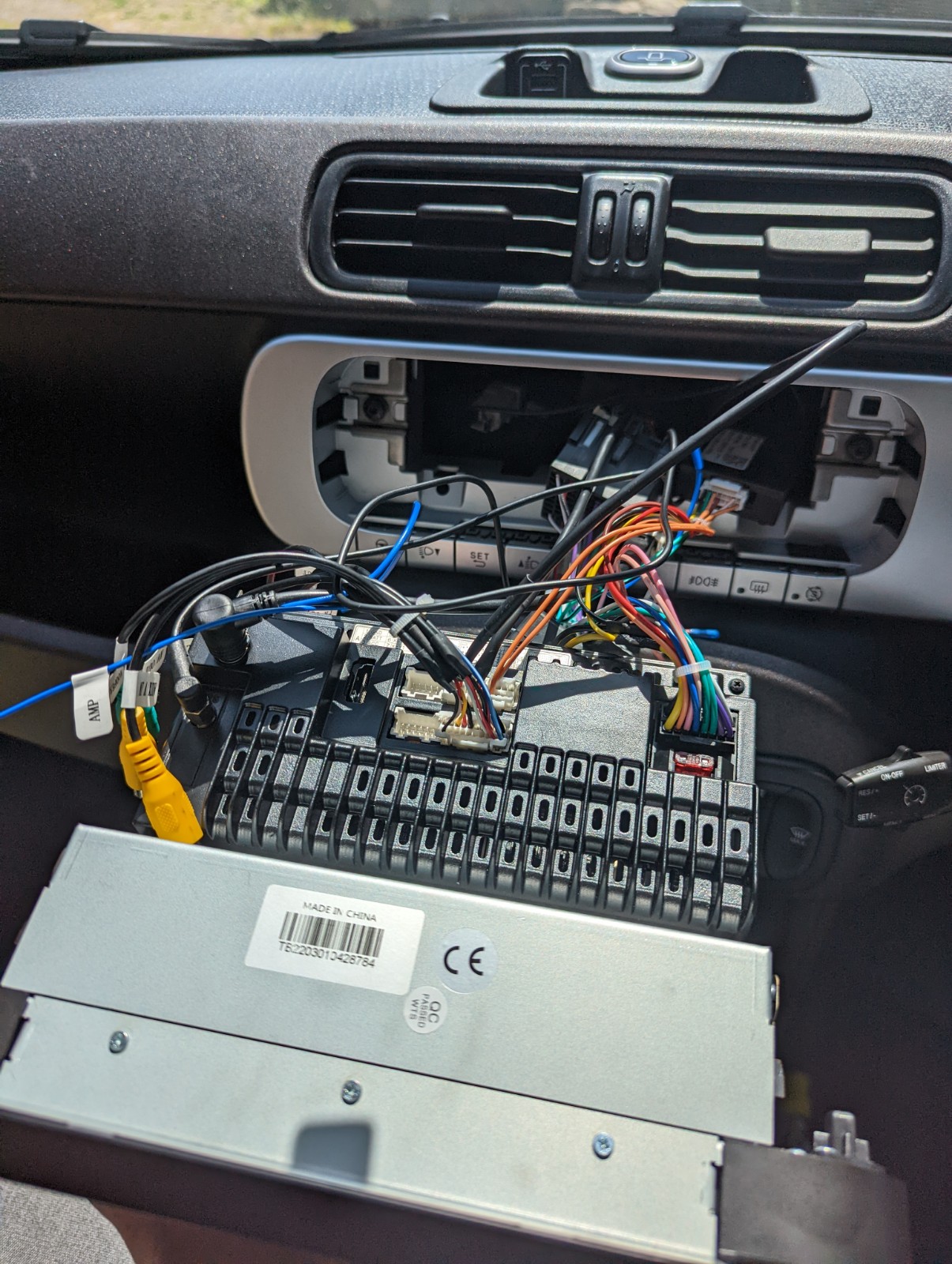 It would be possible to use the unit with android / apple pair off - negating the need for the units GPS antenna, however, for standalone GPS, the unit needs it's antenna fitted. Disappointingly, the unit does not function with the built in handsfree microphone, so, the supplied microphone will have to be installed. Both of these are easily done by removing a bit of trim and chasing the cable to wherever you want the antenna / mic to be. The same would be required if installing the DAB antenna.
Once everything is installed, a test of the unit before seating it home is required. Everything seems to function, so it should be as easy as sliding it in. But of course, things have been too smooth so far, so, let's throw a spanner in the works.
The unit doesn't fit the hole. (Story of my life!)
The problem is, the screws on the unit that hold the security locking clips onto the unit sit too proud, and prevent insertion. Both sides however can be removed. This of course makes theft of the unit that much easier, but, I'm looking at it this way - it also makes removal and chucking it out the window easier if the thing catches fire whilst driving.
Once in, the unit sits snuggly, and doesn't move, despite now missing its locking clips.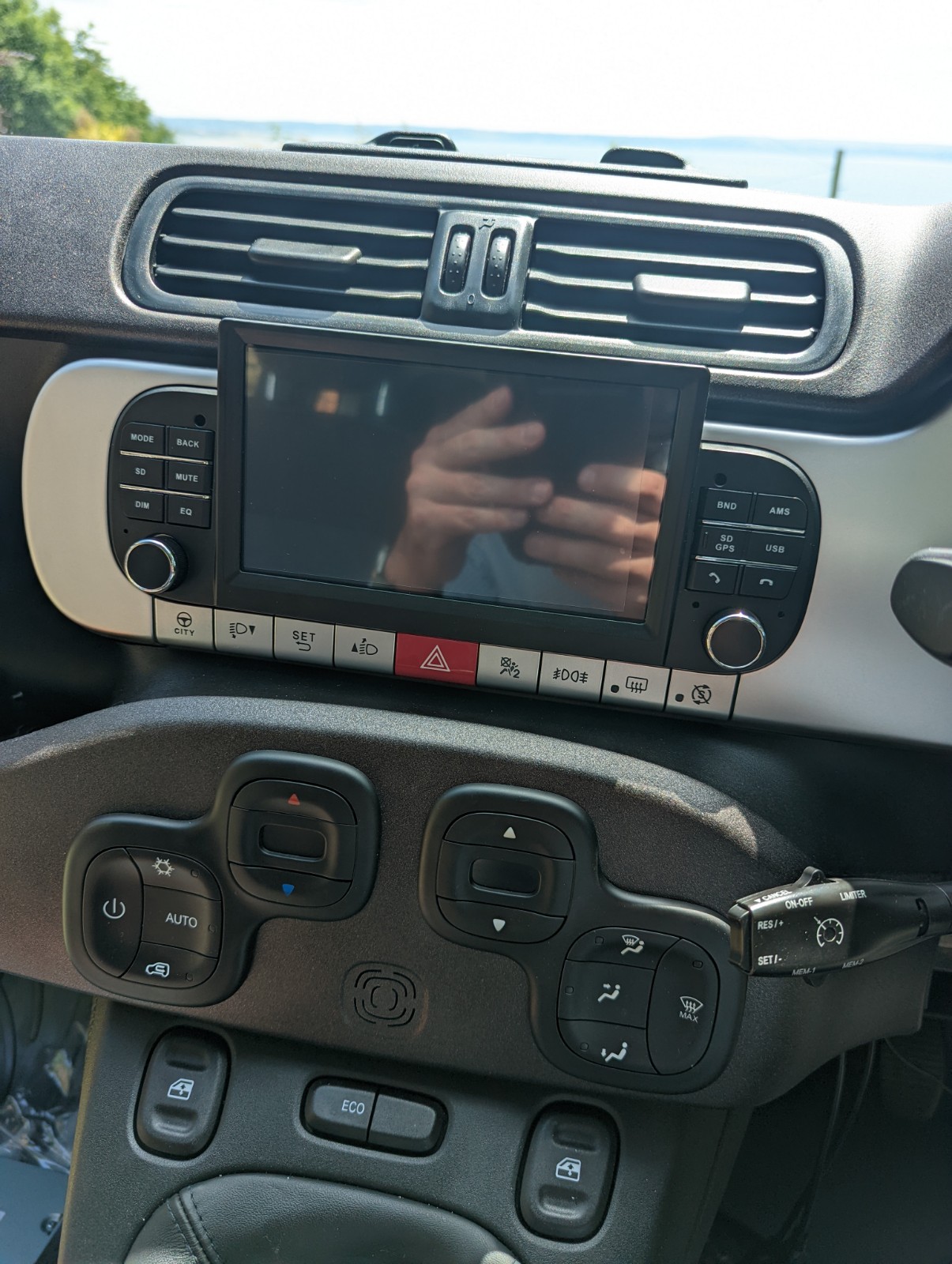 Powered up, it all works fine, however, it's not awesome out the box. A little computer know how is required to set it up, and it's best to think of this as a 'new phone' or 'new tablet', it requires personalisation and jiggery pokery.
What I ABSOLUTELY love about this unit so far - the sound reproduction is AMAZING. I was considering changing speakers (I wrongly blamed these for poor sound). But, actually, the sound is superb from this unit. Much clearer, with a living tone. All parameters can be changed to taste, but central zero points are perfect. Bass and Treble work perfectly with exceptional variance in settings. Whatever audio chipset is being used in this - it's better than anything I've heard in a vehicle.
The radio - not idea what pulling power this has - but it's clearly receiving more stations than before, including overseas (French and Spanish) - and CLEARLY in FM stereo with RDS. Not sure if it's analogue skip due to the weather, and my slightly elevated position, but, one things for sure, no other car has had that radio power, especially with RDS and in Stereo.
Steering controls work seamlessly.
Handsfree is clearer sending and receiving voice signals.
The vehicle data is viewable on screen (Speed / Doors opened or closed etc), and it's possible to engage vehicle settings such as autolock, daylights etc.
This unit just works. I've not disconnected anything built in, not stripped wires, not had an electric shock (yet). Its processor handles working well, even with multiple apps open. I can well recommend this upgrade.
What I don't like about the unit:
There's too much stuff available. This is a computer, not just a BT / Radio / GPS. In theory you could play angry birds on this thing. This could be an unnecessary distraction.
To get this right, the unit needs the settings played about with. Although, I'm kinda fine with this, a younger technically adaptive mind (not necessarily age, but mind) is needed.
I have no regrets. Right thing to do.