Well its been a long time coming but Fiat have recently amended the screen wash jets to the older Jet style rather than the "more modern" but practically useless mist jets especially when travelling at motorway speeds...
So you will need....
a 10mm spanner
and 2 new jets....
Rh side (drivers uk) part number :51927099
Lh side (passengers uk) Part number : 0051927098
Cost me just under £12 each from
www.shop4parts.com
after i spoke to them on the phone they ordered them in specially
old vs new: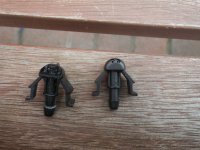 both jets look identical the drivers side one comes with a longer hose than the passenger side but i replaced the jets and left the original hose as there was nothing wrong with it...
So nice and easy 15 min task if that
1st open the bonnet
and undo the 2xM6 (10mm headed) flange nuts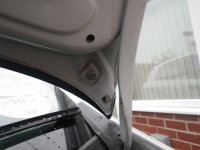 next close the bonnet
the trim is in 2 parts as you look at the bonnet from the front remove the Left side first ((drivers side UK)) start at the wing edge and work to the centre where you will then gently separate it from the Right hand side piece...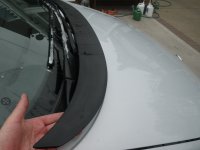 Carefully so not to hit the bonnet with the trim especially the captive bolt on the bottom of the trim... and pull the hose of gently to remove.....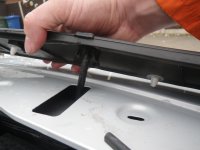 Once removed the jet can be removed by nipping it and pulling out of the trim....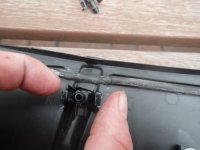 remove the passenger side and do the same
Whilst your there its silly not to clean all the muck out from under the trim....
Once both new jets are fitted refit the Right hand ((passenger side UK)) first,, Fit the hose then clip it back in centre first working outwards this allows the trim to fit correctly
Refit the right hand side then ensuring the centre bit interlocks correctly.....
Now you might have come across some bits of rubber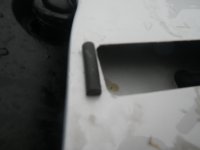 these were a retrofit by fiat to help raise the mist jets to hit the screen higher depending on what you find when you try the jets you might need to either add them (or a bit of rubber from the new hosing or other bit of scrap or remove them if they go over the top...)
once your happy refit the 2 nuts to finally secure the trim ...
Video guide bit shaky but try doing it one handed :devil:
New jet Left old mist jet right
2 new jets i had to remove the rubber bit from the drivers side so it didnt go over the top like it was in the video
This is how it was when stationary... lucky to see the main bulk of the water hitting 20cm up the screen
to this at close to 60MPH