Ok so your washer jet output resembles a limp dribble and doesn't clear your screen. This is dangerous and a MOT failure so dont ignore it.....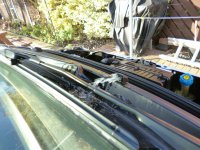 Firstly
Check that the round barrel is still present If not you might be lucky and find it in the scuttle trim by opening the bonnet and seeing it trapped between the rubber seal and the trim... If not its probably laying in the middle of the M1 so its time to order a new jet from your dealer part number 71752196 Or ebay.....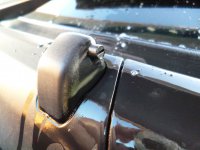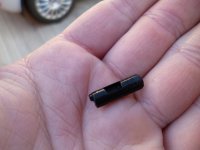 If its still in the body of the jet extract it now either with your finger tips or carefully with some long nose pliers.........
DON'T be tempted to just shove it back in as it will do the same again probably on a dark wet mucky night on a busy motorway leaving you driving blind....
So you have the bit of plastic out (or have ordered a new jet) the old jet "simply" pulls out then pull the hose off and refit in reverse order.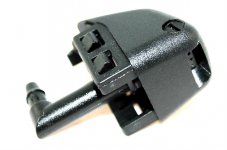 So on with the fix you will need an old sharp kitchen / craft knife and a heat source (i used a gas ring on the cooker)
Heat up the knife blade (obviously health and safety rules apply re burns and hot molten plastic .... CARE NEEDED)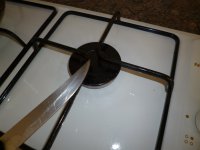 And lightly score the end which shoves in first (end opposite the screw driver slot..
DO NOT SCORE WHERE WHERE THE WATER ENTERS THE JET BARREL OR IT WILL LEAK WHEN REFITTED!
So several lines in the plastic do not clean off the lumps and bumps that rise up this is what will now hold it in place due to the added grip and thickness....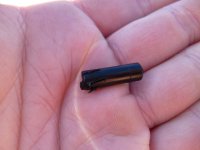 Shove the barrel back in ensuring the jets point out the aperture in the general direction of the windscreen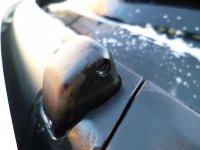 Then ideally with the help of an assistant get them to spray the screen whilst you use a slotted screw driver so the water hits the screen about 3/4 up the hight of the screen too low and at motorway speeds the jets will hit the wipers or bottom of the screen due to the air speed....
CARE NEEDED DUE TO WIPERS AUTOMATICALLY WIPING THE SCREEN KEEP FINGERS AND LOOSE CLOTHING CLEAR
Happy motoring