Well you have suddenly decided that you want your car looking like new (if not better than new) you have stumbled on the right link...........
First things first it is very easy when moving into the Power tool based correction to do SERIOUS DAMAGE if your not careful and dont understand what your doing........ If in any doubt do some more homework... This is intended as a starter guide by no way is it a bible........
Always read the specific instructions for the products you use and take your time....
So to start have a good read of this:
https://www.fiatforum.com/car-care/188996-basic-guide-how-clean-your-car.html
and this
https://www.fiatforum.com/car-care/288510-quick-winter-wash-tips.html
A good wash technique is vital to prevent causing any damage. You dont need a foam lance but it does help remove most of the dirt without any rubbing which inflicts the most damage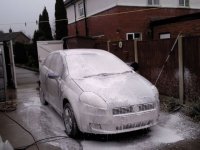 So before you crack out the big guns get your wash method sorted... or you will be doing it all again in a few weeks..........
Once you have decided that by looking at the clouds that its not going to rain checked the weather forecast and its showing a nice warm Calm dry day :chin: (ideally with not too much direct sun) its time to begin.......
Wash the car really really well pay special attention to dirt traps such as door jambs, round the badges, light clusters, wing mirrors, wheel arch lips and the like. The last thing you want is any dirt getting onto the paint work whilst your polishing (this could end up needing a respray)...
Its time to start on an even more in depth clean.....