Hey there this is a quick guide on how to convert your foglights into DRL's (Daytime Running Lights).
Things you will need:
Drl relay switch
H1 Led Bulbs
Superseal 2 pin connectors
Cable Ties
Scotchlock
Tools:
Crimping/wirestripping tool
Wire Cutters
These are the websites where I brought the Relay, Bulbs and Superseal connectors
Drl
http://www.car-mod-shop.co.uk/drlauto-daytime-running-lights-(drl)-auto-switch-relay.html
Brought this relay because its easy to connect up and you don't have to find the ignition wire just connect it directly to the battery
H1 Bulbs
http://www.hids4u.co.uk/h1-high-power-12-led-foglight-bulb.html
Brought these bulbs because there the only ones that fit into the bulb housing.
Superseal connectors
http://www.ebay.co.uk/itm/Waterproof-connector-2-pin-UK-SELLER-PACK-OF-2-/130642916036?pt=UK_CarsParts_Vehicles_CarParts_SM&hash=item1e6aecb2c4
These are the exact same connectors used on the back of the foglight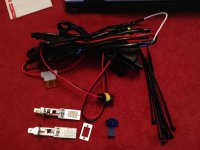 Step1
The drl relay comes with connectors already on it but the wrong type so needs cutting off.
Step2
Once cut off, strip about 3mm off each end and use this superseal connector instructions, to connect the wires into the connectors
http://www.simtekuk.co.uk/cdata/1094/docs/1685006_1.pdf
Make sure you connect the positive and negative the same as in this pic for bothsides
Step3
Insert your h1 led bulbs, the ones I linked have need one side of the metal surround taking off to get the bulb into the light housing as it's a very small hole so 90% of h1 led bulbs wont fit.
Step4
Now connect up the DRL relay in your engine bay, should have the wiring diagram like this on the front of the unit
Black=Battery Negative-
Red= Battery Positive+
White=To sidelight positive feed (Brown in my case) this turns the DRL's off when you turn the sidelights on.
Then connect your superseal connectors to the back of each lamp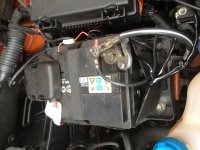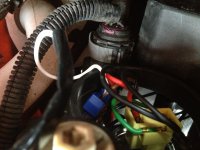 Step5
Now check they work properly by turning the ignition on then tidy up by using cable ties. I placed the drl relay unit in the battery Velcro surround bit as its secure there & allows every cable to get to where it needs to go withouthaving to extend any of them.
Then you're finished and should have something like this
J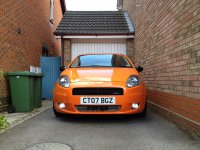 Any Question Post Below