Right - These headlights are a real pain, but can easily be fixed!
Cinquecento manually adjustable headlights
- may work on other similar units but no guarantees
I had recently replaced the headlight with a nice new looking one from a scrap yard. but when I adjusted it for MOT - The adjuster self-destructed! Causing a low beam angle which cannot be changed...
The adjusters are very fragile - so be gentle with them! There is a larger manual knob, which allows fine adjustment and an 8mm bolt behind for more movement.
2nd unit I have repaired, both had similar problems - manual adjusters a big weak point, certainly on Cinq models - if not Sei's as well.
Its worth attempting repairs, pretty easy when you consider a cheapo new one will cost £20 - but its down to money and time... (2nd hand units may be broken already, so beware)
This took me about an hour, including hunting for tools etc
Tools required:
8mm spanner
Sharp Knife
Small ('ish) flat blade screwdriver or blunt knife
Kitchen Oven
Long Nose Pliers - If you're unlucky
Small Self-tapping screw and washer
Silicon gun or similar exterior adhesive
Tape - (If using car straight away)
Stage 1 - Disassembly & Damage Assessment
Firstly remove the headlight unit. There is one 8mm nut on the back of the front panel towards the inside end of the headlight (see Photo 1) and remove the connectors for the headlight and sidelight bulbs. The main unit un-clips from the body (see Photo 2) Then slide the indicator unit off the headlight (easy).
Photo 1
Photo 2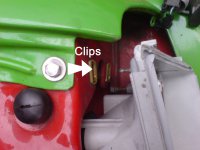 The lens of the headlight is held on with mastic, which needs to be softened to aid removal. Removed as much as possible from the seal before putting the unit in the over for 5 min's (as it is warming up). I used an electric oven - A gas oven may heat up quicker and have a naked flame so be careful *(no responsibility taken...)
BE
CAREFULL, Do not forget about it - this may lead to
toxic melted plastic and fumes
in your oven!
set an alarm or something :idea: !
When warm, remove from oven (using oven gloves) and use a small flat blade screwdriver or blunt knife to remove more mastic and carefully prize the lens from the plastic casing. Use a very shallow angle (see Photo 3 and 4). If this is difficult, use another implement or get a buddy to help.
DO NOT USE THE SCREWDRIVER / KNIFE AT A STEEP ANGLE OR USE THE TIP ONLY - AS ITS EASY TO CHIP OR CRACK THE LENS!
Photo 3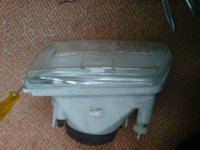 Photo 4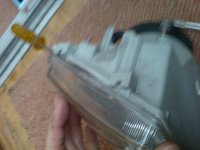 A good point to start is the corner of the headlight, as seen in the photos above. Carefully push the screwdriver/knife along the seam until the lens is removed.
Onto the repair...