Tools:
Blue Fiat Badge
Some sort of thin, small 'leveraging' object (I used an old bank card)
Abrasive paper (I used, P180 and P2500)
Warm water
Paint preparation wipes
Spray paint (whatever colours your heart desires)
3M double sided tape (or something similar)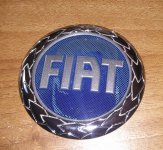 To remove the central logo from the silver case, simply warm the 'sticky stuff' up that resides behind it. You will need a little leverage to pry it from the silver backing (I used an old bank card).
Read:
I wouldn't use a flat headed screwdriver as that may chip the badge.