Ok I tried using a hose pipe but it wouldn't work. Instead I used an air pump. First thing disconnect the rubber tube at the top right of the open tailgate.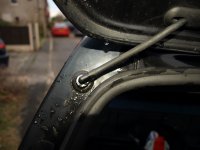 Now just put the air gun to the washer nozzle and press go. I didn't try blowing air through the rubber tube as whatever was blocking the nozzle was obviously too big to go out that way.
Now just wipe of the lovely gunk that was blocking your washer.
Yes I know this is perhaps an obvious solution but it might help people with the same problem to have confirmation that this works.