Introduction
When i first bought the Punto s 60 before work begun it was plain white as you can see,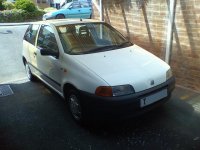 I then went on to giving the car a "ratted" look by primerring the bonnet and sloping the number plate, but then found out it looked to tacky.. i removed rear windows to clear around the rubber seals where there had been mold growing and all clumps of dirt,
i took the bonnet off again and sanded the primer so it was smoother and then thought, "ahh peoples been painting there cars with rollers" so id give the Punto a better look and paint the bonnet matte black, with emulsion paint!! firstly filling the bonnet badge and sanding it smooth.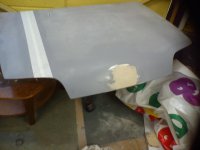 finished sanding the filler smooth as i could then i started to roll! but also removed the washer jets which i didnt do when primering :bang: CLOGGED JETS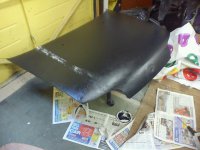 half way through i forgot i had masking tape on the bonnet so its going to end up having a primerd stripe down the bloody thing, ahwell be a one of a kind also it would go with the jets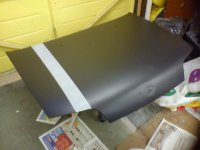 i thought it actually looked alright when i removed the tape
but the filler is still noticeable ahwel what the heck! its a project nothing to worry about maybe having to lacquer the paint after though as it is only emulsion paint for walls so will have to protect it,
Fitted the bonnet back on to the car and it looks quite nice in my opinion
also fitted a black sun strip for £10 from halfords but sadly im going to have to down size my wipers or the arms!!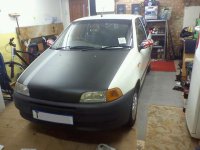 [AIR FILTER]
i thought the Punto needed a new filter, so i got one off amazon for.... £8.75 better than paying £26 from hellfrauds!!!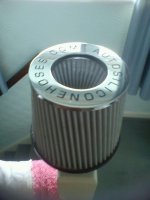 Loook at the bloody size of it!
time to fit it in the engine bay, firstly i removed the old paper filter out of the airbox and had to cut the air-intake pipe to place it on the end its a tight fit but its in had to cut it down alot and repair and tape it to strengthen it.
Its in! :slayer: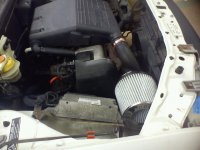 Also added a black tail pipe so that it stuck out abit more and gave the car a better look and sloped the rear number plate
got a bit childish with the Punto_s badge.. aha no body moan but i thought it was funny most likely going to get a warning about this
also added stickers under it to underline the badge and added a GHIA Badge
oh also wired in some house speakers in the boot no need for a subwoofer or amp im happy with how it is,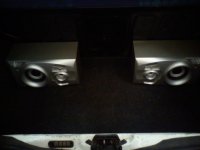 (UPDATES TO COME WHEN MORE WORK HAPPENS)