Introduction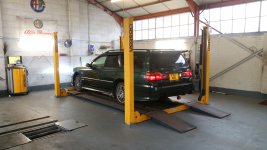 Some time last year i had purchased a nissan stagea with slight miss fire and turns out to have had a hole lot wrong with it so i decided to first tackle the gearbox issue so out came the auto and in went the r33 box with r34 drive split (already don't gearbox came from track car so did the wheels) involved a huge hole saw and a load of components but over a weekend we had drive
some time later 300 miles clutch went supposedly a stage 4 clutch but the pressure plate was that bad quality it had worn down into the shape of the clutch pucks and just started slipping like crazy on the way back from jap fest with the squad in the back only just crawled off of the motorway so then the box came back off and a proper clutch installed well reputable... to this day zero slip
:worship:
next came the incident with a taxi suddenly stopping in front of me causing the stagea to gracefully slide through the back end of his car as per norm within seconds he was out with a pad i had spoken to his customer to see if he was okey and he had told me it was the taxis fault but since he was involved he couldn't be used in evidence besides that i should have left enough room anyway cut along story short i fixed my car out of insurance only slight frame damage all repaired properly just needs painting
oh and the super lame fast the furious body kit was thankfully destroyed leading to sleeper mode :devil:
onto the elusive misfire on No6 cylinder compression test and leak down test passed with flying colours and injectors shaped and checked ect then coils still on 6 turned out to be carbon track on 6 due to wrong plugs well the right ones but far to aggressive iridiums 8s vs the copper 6s ones in now :worship: but now after fixing a hole load of most leaks and 3d printed spacers holds 20psi :slayer:and only thing to do now is fiddle with ecu maybe fully aftermarket as it stands now it has a mines ecu from another car with an unknown tune
but still runs okey just not ideal.
then onto the inside the car was from manchester and my gosh can they cock stuff up they binned the stagea cool as s**t seats and half assed installed the seats from a saab
i finally found a chap who sold me full original immaculate interior with rare options i.e. doggy table and bed yeh japan....
loads more to do but it runs well now just abs faults to sort out and we should be good to go :slayer::slayer::slayer:
will upload pictures when i get some light after work :yum: