Introduction
So hello, my name is Aidan
Im from Cork in Ireland
Owned a cinquecento since i was 11?
Ya 11 or 12!
It was after my confirmation and i had a lot if cash to splash!
My grandad is friends with a scrapyard owner/someone in the scrapyard scene.. Yaya you get me
So his friend got in a small 1 litre that was slow enough that i wouldnt kill my self in:worship:
So €100 and the little red cinq was mine:slayer: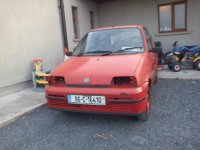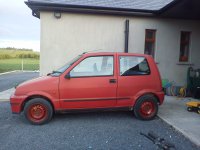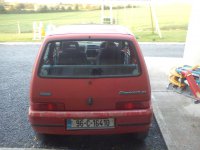 The wheels are the same as the spare you get with the cinq, dont ask me how i ended up with 4 haha
Grandad had a set of nice 5 spokes lying around, painted em black and threw em on (****ed up a €1000 truck trolley jack cause **** logic?)
Out into the 100-150 acre field(probably more just guessing) i went out in the little cinq afte waiting months for the barley to be cut. For the first few times i was out in the car, my dad was in the passanger seat.
After about 3 laps he had to get out cause he was bricking it, i was driving so mental
:devil:
So i sold the car with the alloys for €130
(Stupid mistake i regret tbh
)
Anyway, next summer came and another car was to be both:slayer:
Hours on end searching donedeal and scrapies but no luck..
Then!! A polo 97 year for €200 popped up
Went for a look and it had a miss in the engine
3 cylinder 1 litre hehe
So i bought it for €120
Days spent trying to find out what was causing the cylinder to misfire???
New spark plugs? Nope..
New manifold? Nope..
So i just sold it on a month later for €200 yoyos kaching!!
(Didnt feel one bit bad for the buyer hehe)
so there was a fine cinquecento for sale
€300.. Seller wouldnt do 200 only 250
So thw car sold for 250...
BUT THEN!! my dad got a call from the seller, and said if you collect the car in less than 2 hours its yours for 200
So up to fermoy we went with my dad and his friend
200 smackers and i had a lovely 1.1 cinq sporting
Brought her home and she was such a lovely road car just needed a new tyre and battery for nct(mot), such shame that i got my hands on it :devil:
So out into the field i went, 40mph?50mph?60mph70mph?80mph!!!!! That cinq was some change from the 899 cinq, i use to only get 40mph -45 tops in the field..
I loved that cinq sporting so much and still do, i want to keep it and put it on the road when im 17(it could turn into a money pit oh well) i want to fix the new springs and shocks, get a nice set of shoes for her and get a new steering wheel and some recaros, she will look mighty indeed if my dream comes through!
Ill get some pics up over the next few days of the cinq 1.1 !