Introduction
Hello,
I've had dalliances with Fiat cars in the past, a Panda 45, and an Uno 45 but it's been a while since one graced my driveway. A couple of weeks ago I was looking for a cheap and cheerful car to replace my MX5 and Ebay/Autotrader lead me to this little gem.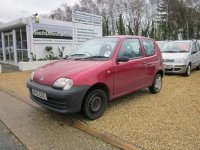 It was cheap (although not cheap enough) but that was because its head gaskets gone. I'm in the middle of changing that now, and what an absolute sod of a job! It's the newest car I've ever owned and I'll be honest I was expecting it to be a lot simpler than it is. Am I an idiot, or is it virtually impossible to get the manifold/cat off it without taking the radiator out?
I'm just at the stage of waiting for the postman to bring me a new gasket set and I'll get it back together, hopefully. Is there anything I need to know?
I haven't got a manual for it, I can't seem to find a Haynes for it, only the Cinq, is it likely to be relevant or does the Seicento with all its MPI and electronics bear little resemblance to its predecessor?
I'm hoping to have it running again Saturday evening, then order up some springs for it and get the suspension sorted out.
Here it is as it sits outside my work tonight. It's a little bit tatty I must admit but it'd be a shame to buy a mint one to throw at hedgerows and cones when out competing...