Introduction
I've now owned this Uly for exactly 4 weeks and I love it. However I decided it needed some new rims so set about looking on Ebay and ended up with some Alfa Romeo alloys and tyres all in excellent condition for £36
I've fitted them today and I think they suit the car really well, dont you?
Only thing is that the tyres are slightly lower profile (60 instead of 65) so theres a larger gap between the wheel arch and tyre. Might be the excuse I need to get it lowered and stiffened
Apologies for the poor pics as I had to take them on my old phone.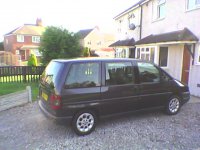 Cheers Nathan