Introduction
I never really posted about my old punto, so i think its time i did.
So i got the car totally standard, and hated it.. it looks rubbish, so i set out to make it into a car i absolutely loved, and that's exactly what i did.
I started with lowering springs, it looked alot better.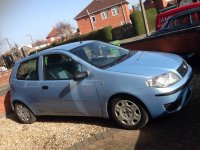 Better, but it definitely needed some wheels on it.. so i went for some sporting wheels and refurb'd them myself in satin black.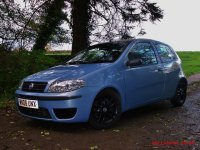 But it still wasn't enough for me, i wanted to learn, work on it myself, really make it my own and try to make a punto how i had never seen before, so that's when the expensive parts came, i went for some Extreme Offset Wheels (5SPS) 15" 8j et0 with 195/45/15 tires with some slight stretch, but it turned out to look plain silly with just springs on.. i also bought a debadged grill and moved the reg plate.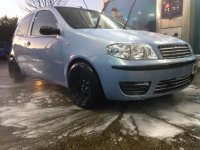 So.. i thought i'd buy some coilovers and slam it, and learn in the process by fitting them myself, and it looked much better.. much much better.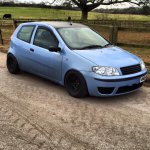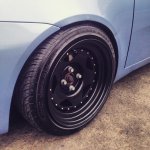 So at this point i was very happy with the car, i had made it into a car that got a lot of stares (hopefully good stares
) but a few more mod's and it would be finished. So, i bought a sticker and fancied some DIY and lightly sprayed over the sticker, let it dry and carefully removed it, and i was pretty happy with the outcome!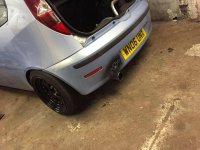 Nearly there, i then got a sporting steering wheel (soooo much better) a John Ashley 4-2-1 Decat manifold, a Hoffman backbox and an induction kit. It sonded absoltely great, i have video's on my YouTube: BillyM247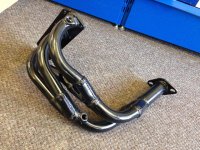 I attended a punto meet, and it got a lot more attention than i thought, which made me happy
Heres some from the meet.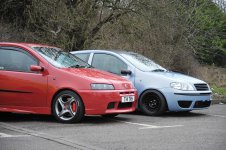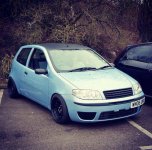 And then i made a very stupid mistake, and sold the modifications and put it back standard (apart from the coilovers) because i wanted something faster :bang: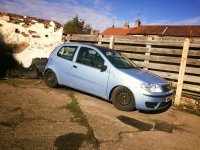 I miss the car, and see it around York sometimes where i live. I hope to buy it back one day and resurrect it!!!:slayer:
What do you people think of it? Any comments and opinions welcome, not to everyone taste but it was my project and i couldn't have made it any better in my opinion
Thanks for viewing and sorry for such a long post!
Any questions, just ask. ill be happy to help