Introduction
So I'm yet to make any mods, but got a couple of subtle ones in mind.
Here's my lovely Bravo, all the mod cons thrown in, including dual climate control, full leather interior, 18" alloys, panoramic roof, etc etc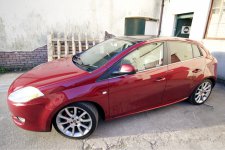 It's got Chinese tyres on that I'll be upgrading first, and the dual climate control blows cold on the passenger side, but once I've fixed those ill be looking at a remap and then potentially new induction/exhaust kit (with another remap) in the summer.
But for now, I'm in love with it!