Introduction
Hey everyone, been lurking round this site for far too long without making any posts or showing my car. This is more of a way to document what I've done to my car but if it helps anybody else out or they enjoy reading through it then that's great also
.
Mods List:
ASH Induction Kit
50mm Lowering Springs
Cherry Bomb exhaust (I know, I know, but there's a silencer in my mid pipe so it's only just louder than stock.)
OMP Race Wheel
OMP Boss Kit
Jet fuel colour steel gear knob
Black Fly Eye headlight tint
Plastidipped front & rear badge
Rear De-wipered
Future mods:
MK2 Active Sport rear tailgate
17's (possibly)
Get a few of the dings and dents sorted out.
Red/Yellow callipers (can't decide on a colour)
Alfa Seats? (not sure which ones fit or how easy they are to put in)
Alright, only got a few pictures as I only lowered it a few days ago. Plus, I'm halfway through taking the scrub strips off. (which are a pain in the arse?)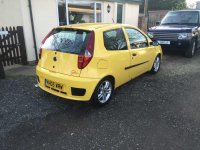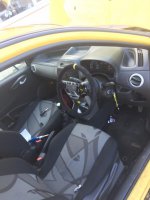 Ignore the abarth sticker, it was on when I bought it and I just haven't got round to removing the thing yet!
Cheers,
Lucas