Introduction
As a reader at this forum I decided to create my own topic, just to show you which cars are driving around oversea, in the Netherlands.
During the years I did have serveral Panda-like cars, and I'll show them over here
back in 2007 I bought this Panda 34. After one year I swapped it for a mk3 Ford Escort, but sadly that car's automatic box died soon after. After a Ford Orion and a Citroën LNA 11RE I decided to buy the Panda back from the new owner, and at that time I kept it 'till the end of 2013.
In Italy:
Halfway through I bought a 2000 Panda 900, which I restored and sold on:
Sadly it did not survive, as it is scrapped nowadays
Next in the collection became another Panda. It was once white, but during the recordings of ,,De Heinken Ontvoering" in which my Panda starred, they needed a stunt double. So they bought a white Panda and sprayed it red.
I had some fun with it in 2011, sold it, and this Panda returned later to the nest, to be scrapped, as it was rusted completely...
in the Pyrenees
Later on I bought a 1987 Seat Marbella, which I still own.
A rare exemple, with an optional catalist converter, a spoiler at the back and a unique striping. It does only have 48.000 km's on it yet.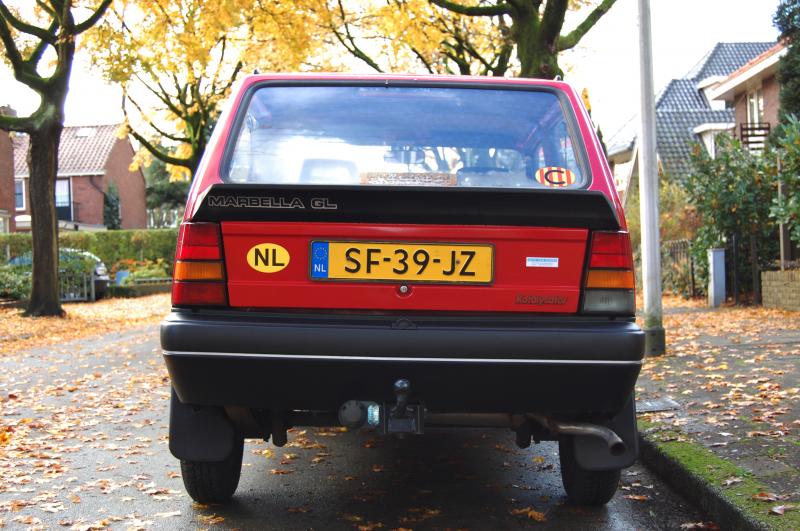 Recently I've bought the one and only Seat Trans in the Netherlands, which is actually a Seat Panda Van, like the Seat Terra. But with differences. It does have a 45hp engine, which I converted to electronic injection. It is in use as a small camper van (like the Danbury's conversion)
and the last car I bought is this white one: a 1994 Panda 750S Selecta Italia '90.
As you see, it's an 1100cc selecta, in Super-trim, with the Italia '90 specs. I already have the original striping waiting to be sticked on.
After that, I'm going to sell it, so if someone's interested
(it still does have a Belgian registration)
Next to the Panda-gang I do have a bubblecar and a 1977 Citroën Dyane. So actually I do have too many cars :devil: