Introduction
May I introduce Casper our new MK1 Panda 45CL.
As some of you already know he used to belong to Gavin, which is when he got his name. Gavin already had a blue MK1 called Jasper when Casper came along so it made sense to give him this name as he is white, like a ghost.
When he first came to us the plan was to improve a few things on him and sell on, Gavin could then get the price he wanted and I could make a little too, with the bonus that Casper would be a better Panda as a result. The trouble was life got in the way so Casper was left on the drive for months waiting for something to happen, and in that time I grew quite attached.
The potential was there to make a lovely Panda but in doing so I would rule out any possible chance of making any money from the work. The only solution was to keep him.
He's very low mileage you see, 13,800 as it now stands, so there are parts of him that are still like new, the interior for example. The things that weren't so good were the bodywork and engine. Even at such a low mileage the timing chain was very worn and rattly so needed replacing.
The issues with the bodywork were small areas of surface rust here and there, poor repairs to the rear of the outer sills, wrong colour grey around the bottom of the car, a dodgy looking 80's side stripe, and Mk2 wheels which were also the wrong colour. I prefer the older look of the early MK1 wheels so my plan was to fit a set of them in the correct silver.
Well six weeks ago I decided I'd like to show Casper at the Classic Car Show at the NEC, a quick tidy up and a change of wheels should do the trick.
Well about a month before the show we started to rub down the rusty areas........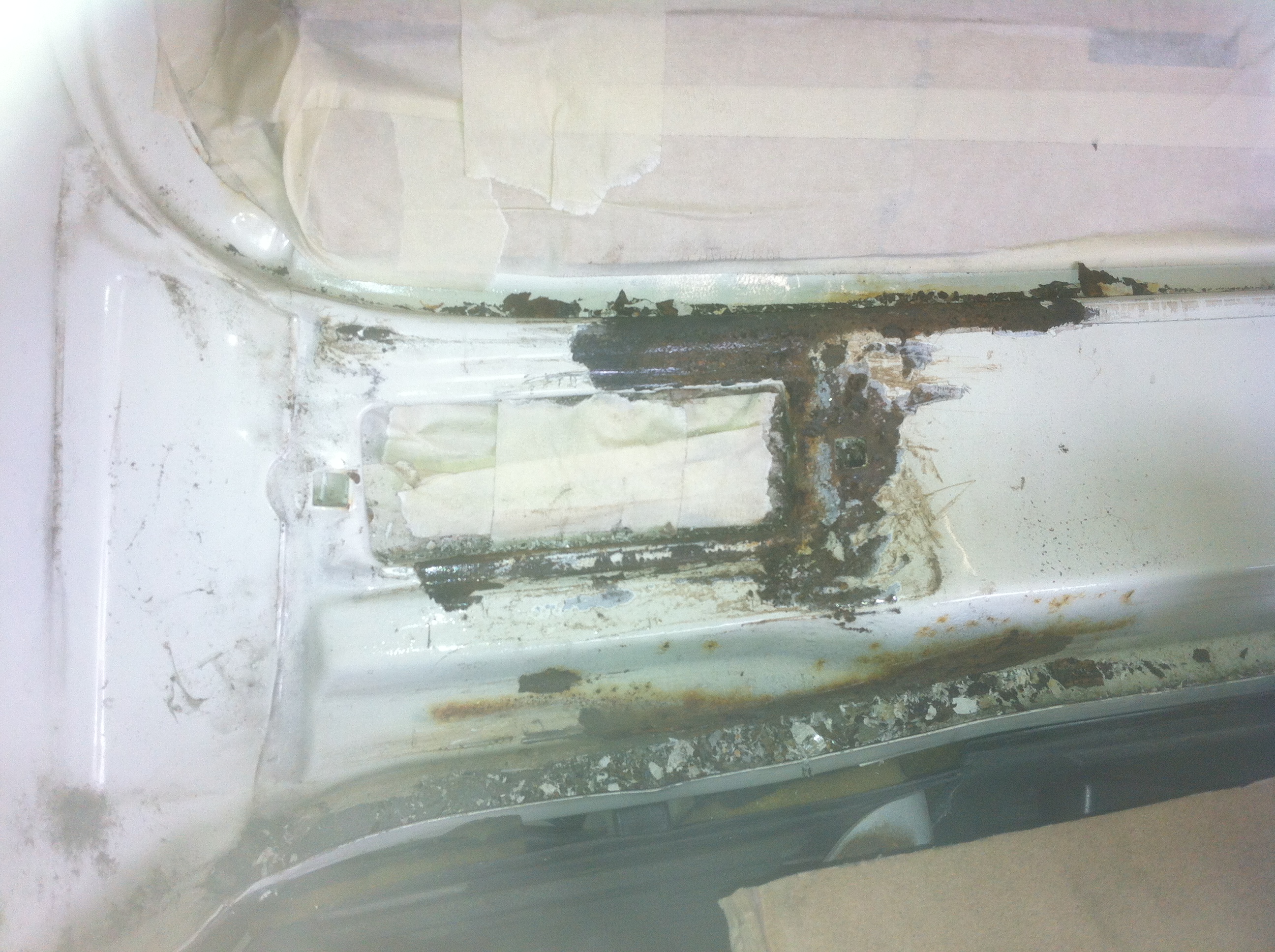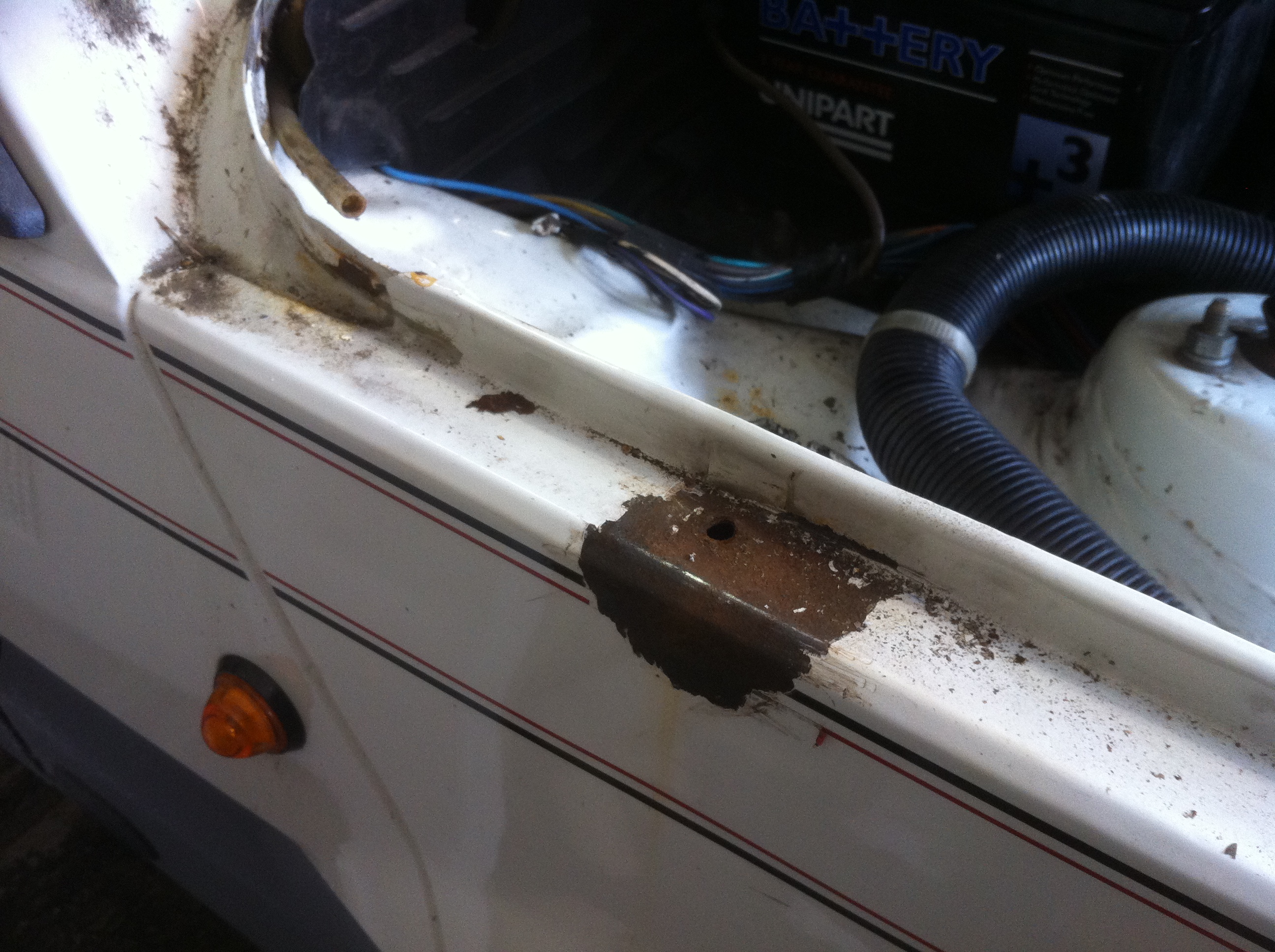 Now very quickly we realised that the rust in the scuttle below the windscreen was worse than it had first appeared, the best solution was to fit a new scuttle panel. So we did.........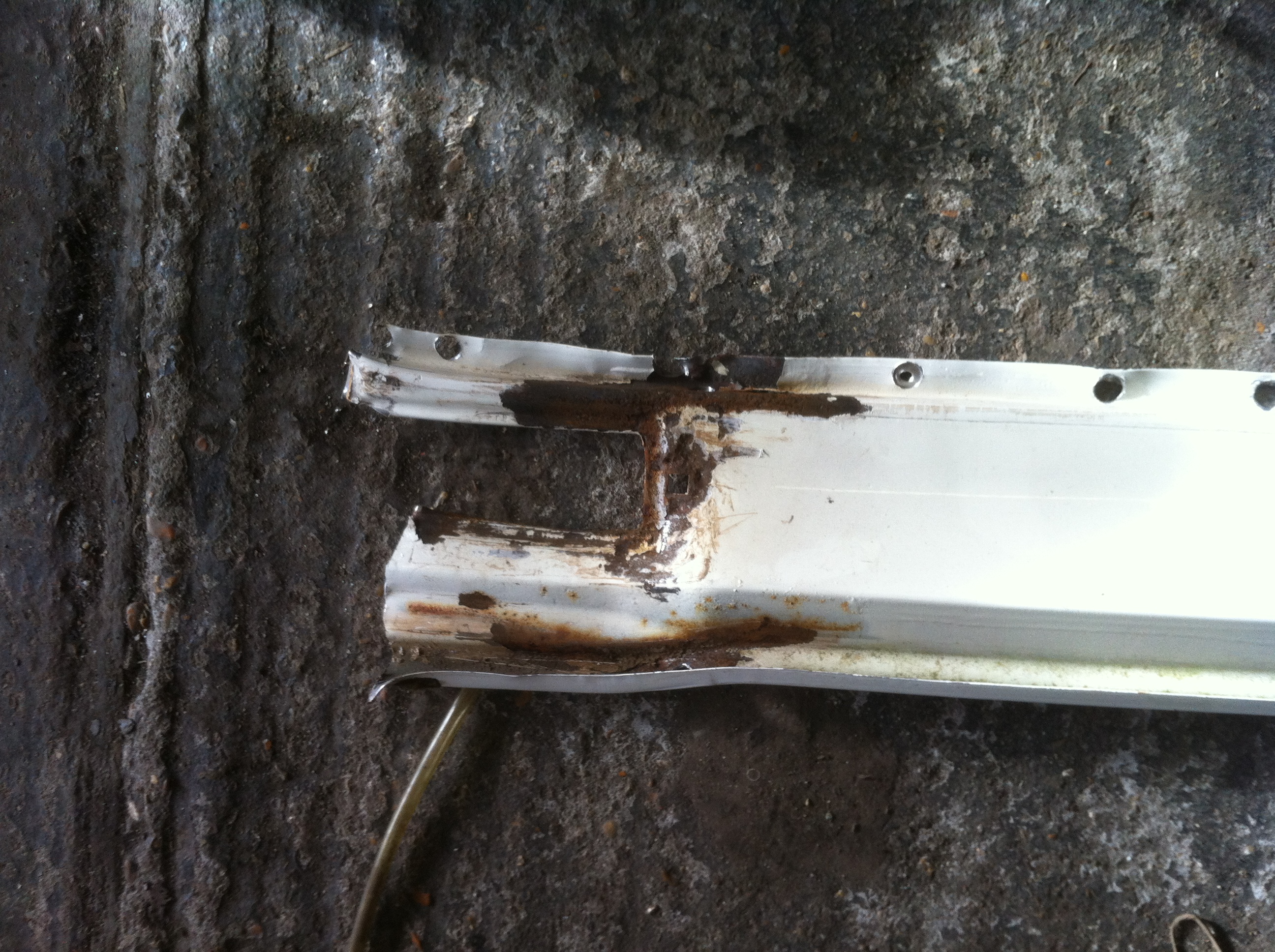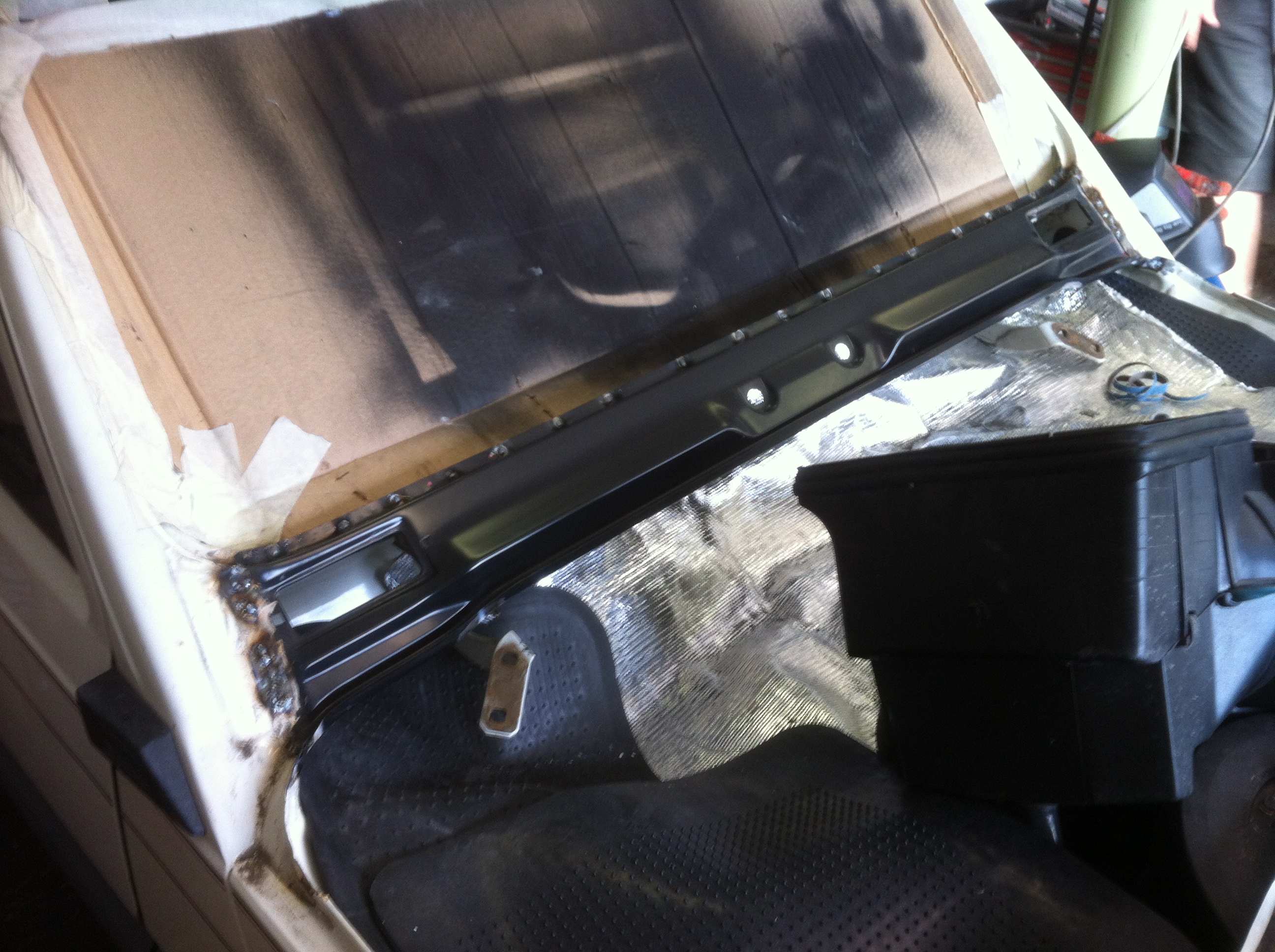 Then we started to prepare the other rust areas and remove the stripes....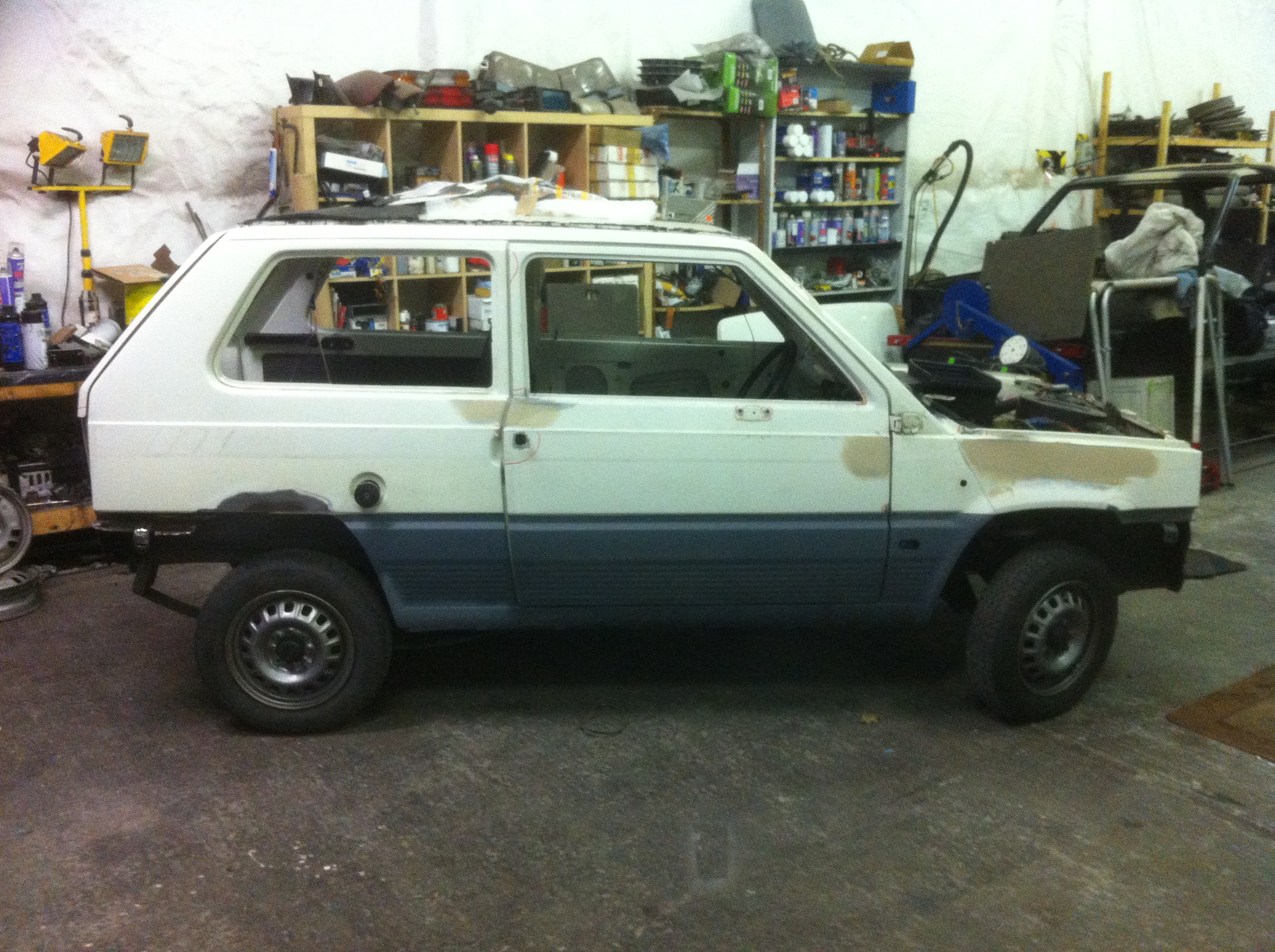 It was clear at this point that the repair areas were not going to look too good blown in. A respray of the whole car was the only way of doing a good job, even if it meant that Casper wouldn't make it to the NEC.
Pete, who is a freelance bodywork Guy that comes in and does work for me from time to time was responsible for the bodywork so far, he also works for a bodyshop in West Sussex (Extreme Restorations). Now I was thinking, if they could respray Casper quickly and at short notice there was still a chance that we could make the NEC, even though there was only three weeks to go
. Now if they could do it I had to be sure that there would be no compromise on quality, I'd rather miss the NEC but have it right, one thing I was sure of was that I wanted Casper to be as good as we could possibly make him.
Pete suggested that if I A framed Casper to Extreme Restorations for the weekend he and their painter would work all weekend to get him done and I could pick Casper up on the Monday.
The challenge was on. :devil:
Casper was stripped out of the rest of his interior and all glass, bumpers and trim removed. The bonnet had surface rust all over the bracing on the underside so to save time I supplied a new one I had been keeping for a special occasion, and this was it. I took Casper to ER on the Thursday, and true to their word, I was able to pick him up on the Monday :worship:.
He'd been painted in the original white, in two pack paint, then baked off in their oven. I'm very pleased with the results, haven't even needed to polish him yet!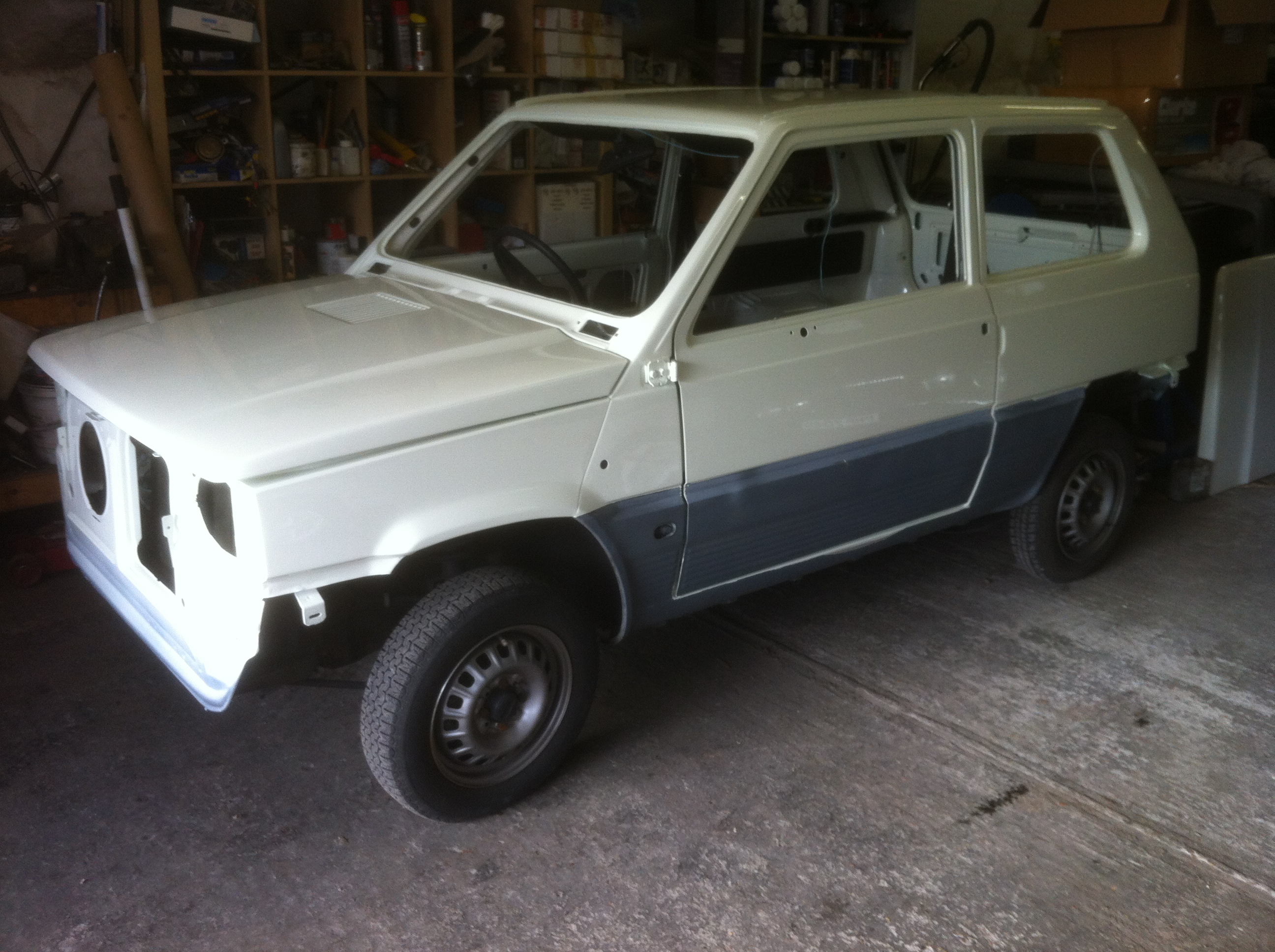 *Not content with just a respray, I looked at the engine bay and thought, 'well the timing chain needs replacing so, instead of doing it in situ, lets take the engine and gearbox out and give them a tidy up as well. And as the front end is up in the air we may as well do the front suspension too. This is how the looked before.......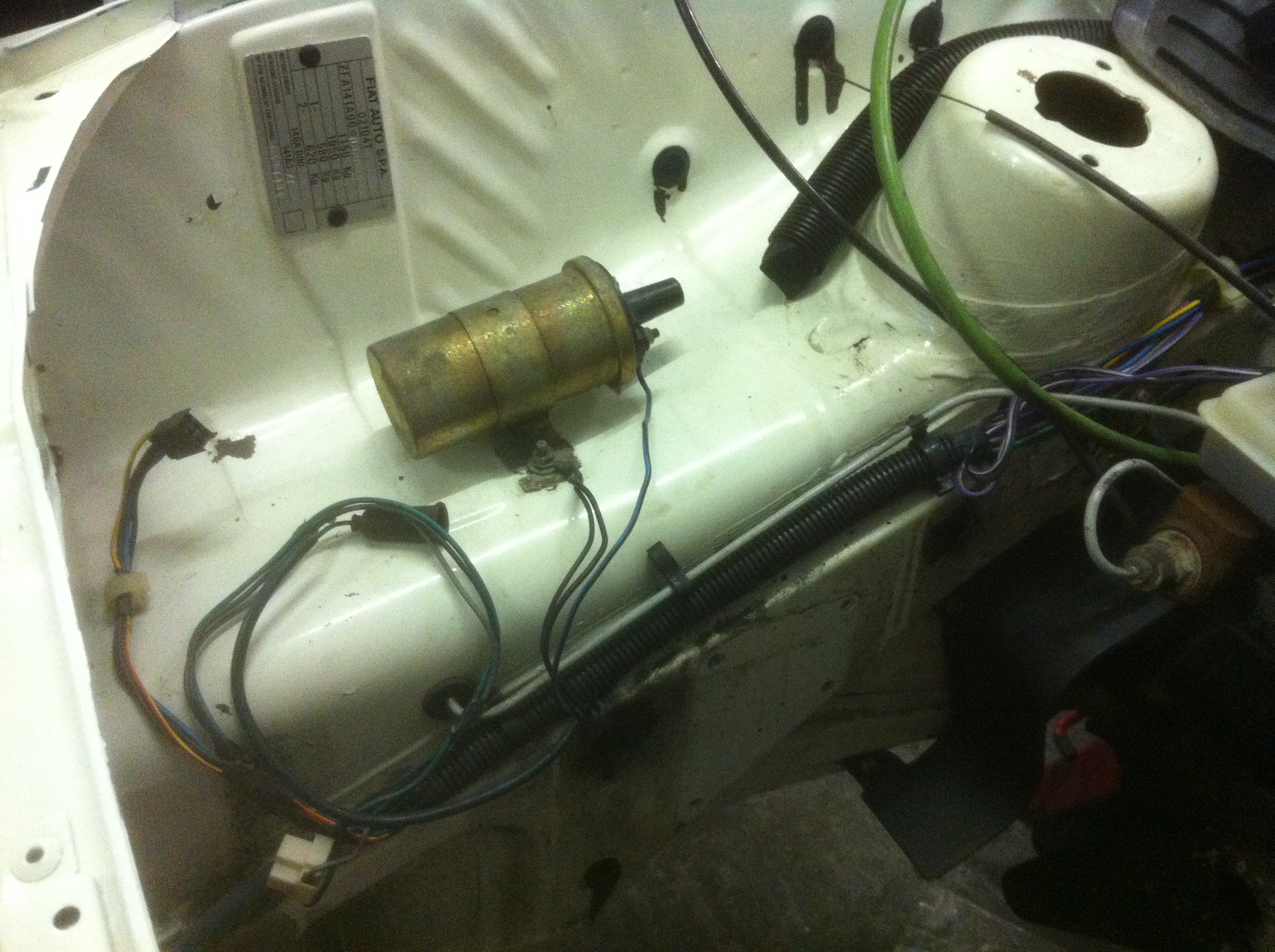 Now while the engine was out it seemed to me to be a good time to attend to the rusty patches in the engine bay........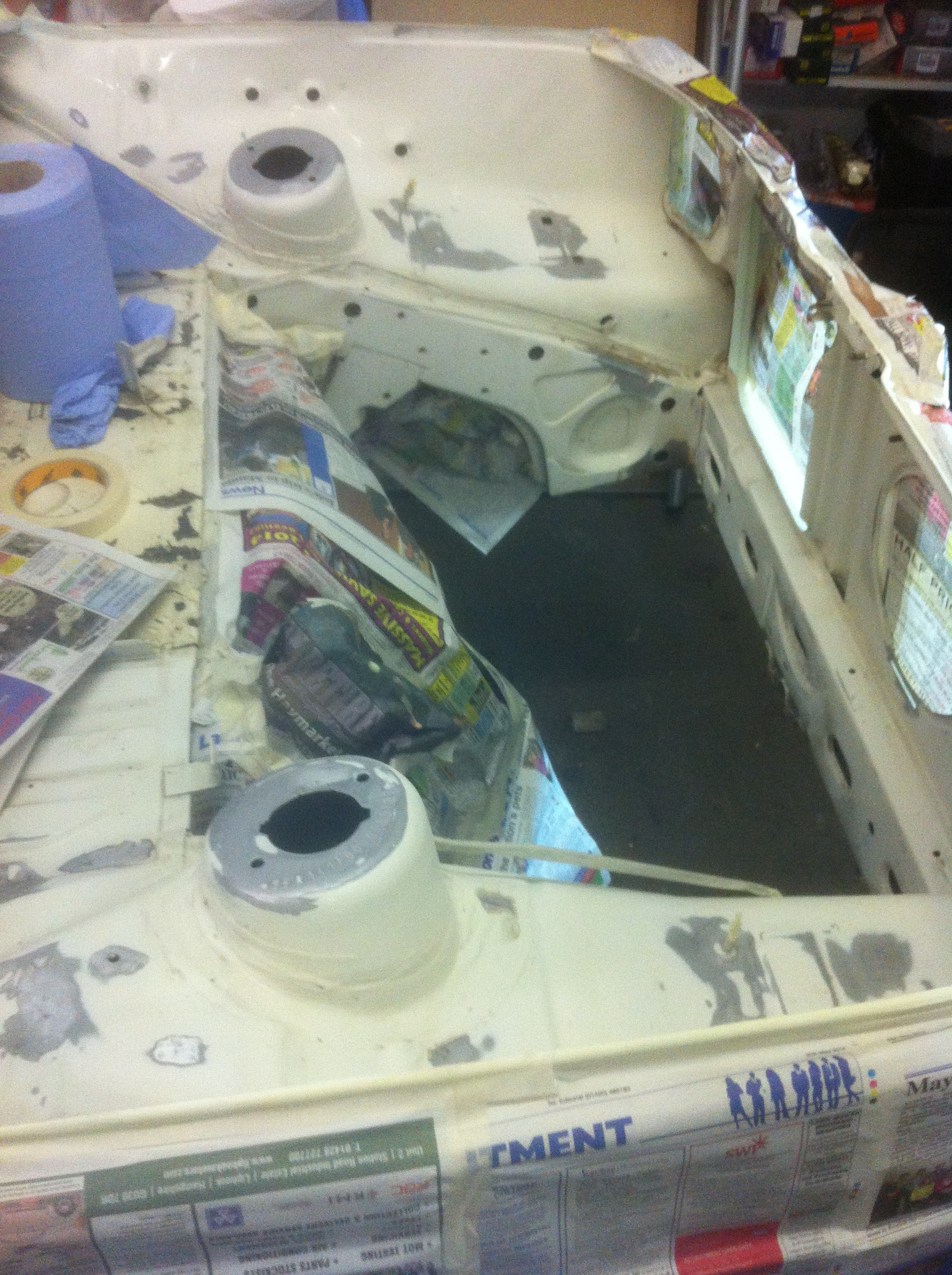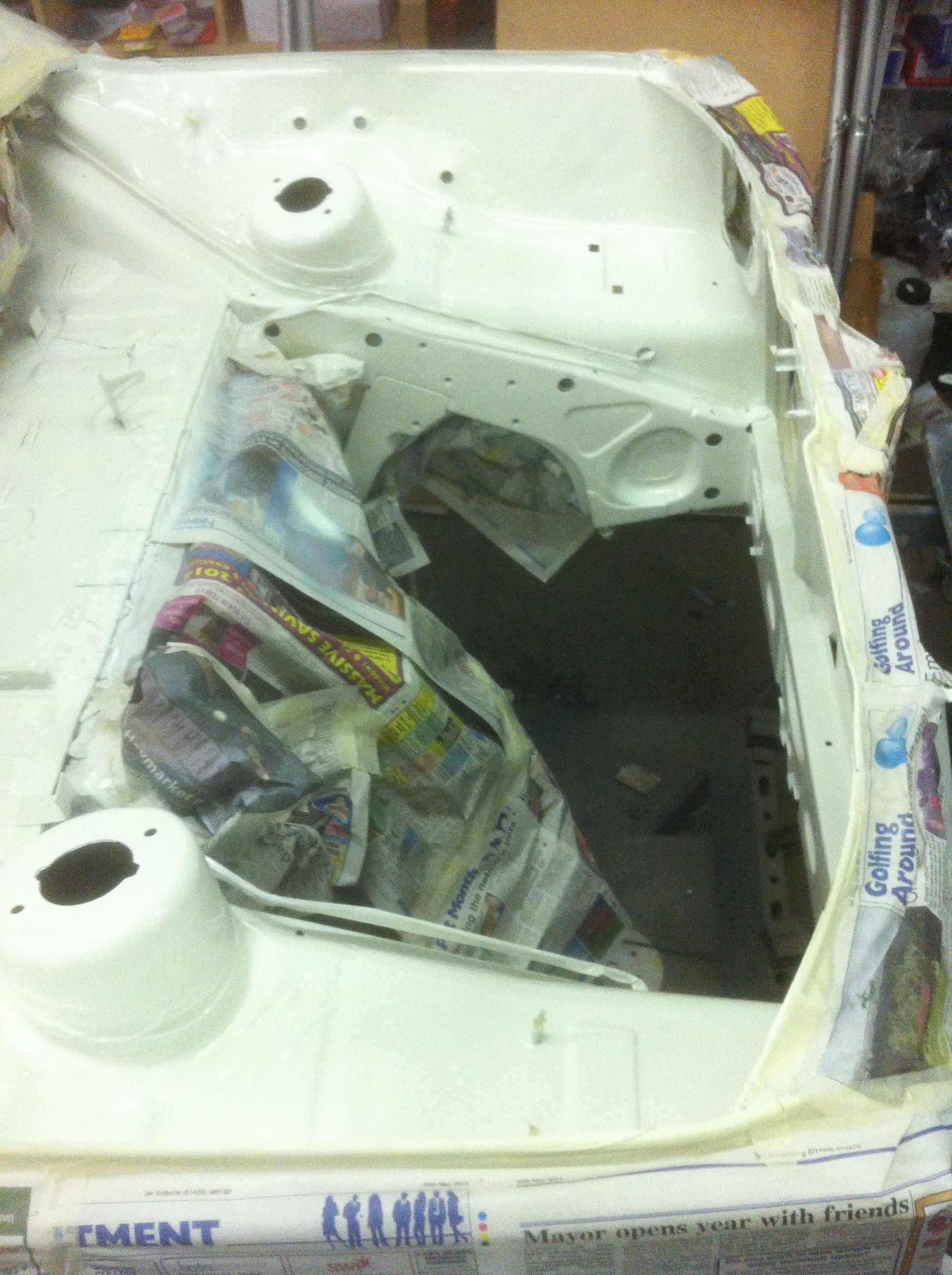 Ok, ready to start putting things back together. The timing chain was renewed, tappets adjusted, oil changed etc. On top of that everything was painted or cleaned or both to bring back the original finish.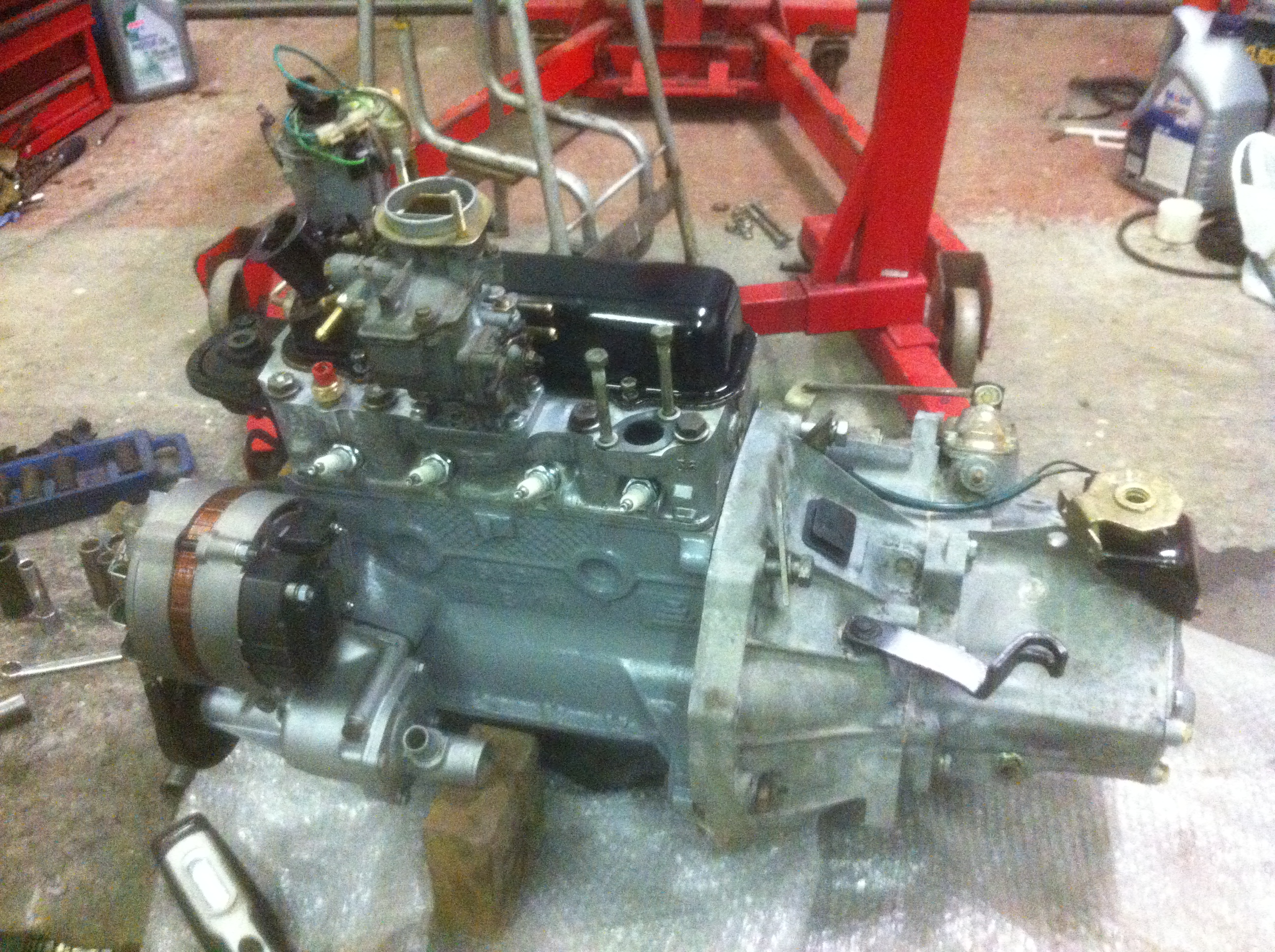 The front suspension received the same treatment, new discs and pads, new track control arms, new drive shaft boots.....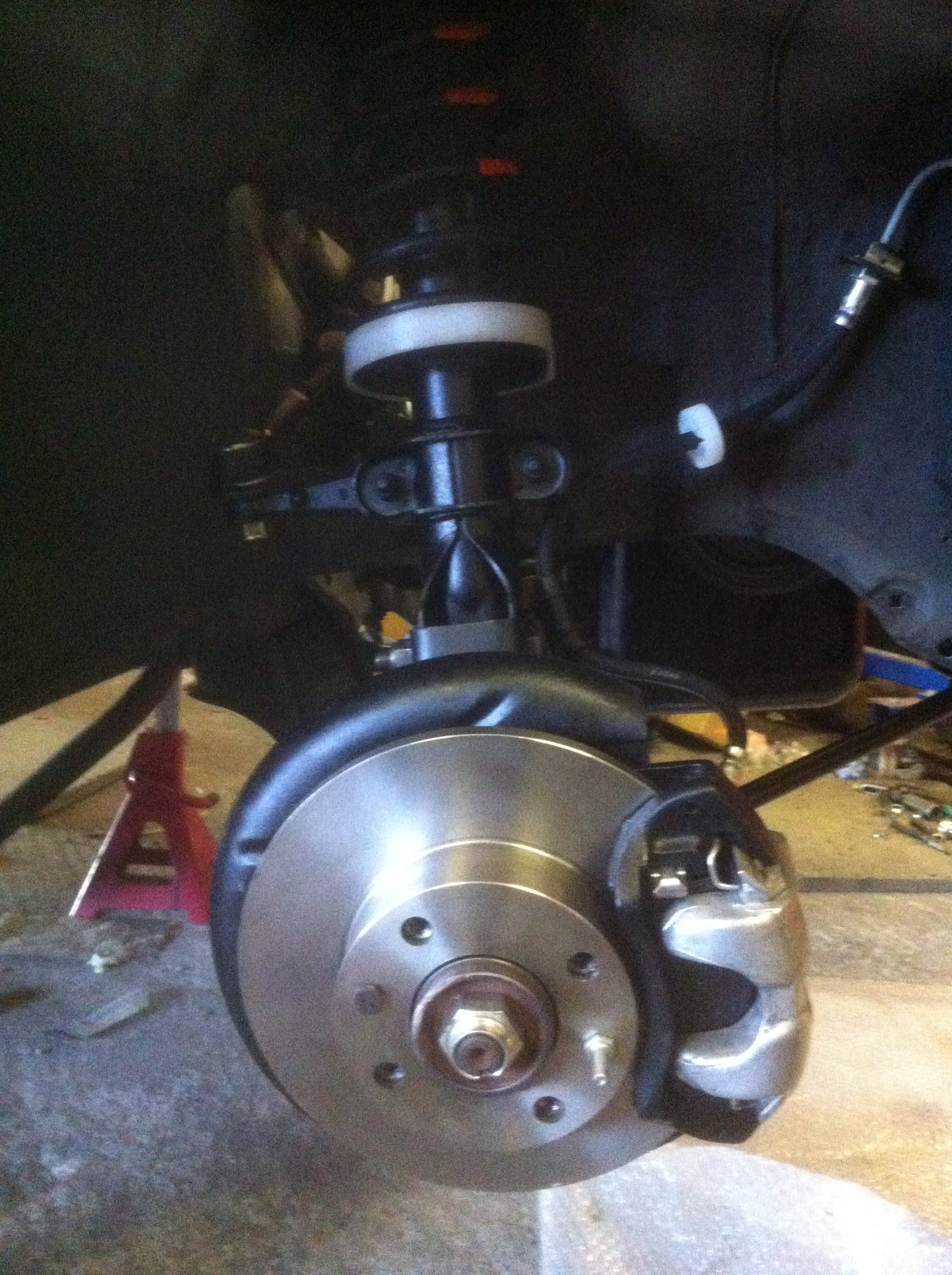 I had a new front bumper in stock so sent it off to the paint suppliers so they could supply me with a matt grey paint in the same colour, this was to do the lower part of the bodywork. The poor repairs to the sills turned out to be pretty strong so just needed shaping a little better, then re-covered in stone chip before the grey paint went on. This was all finished off with matt clear laquer.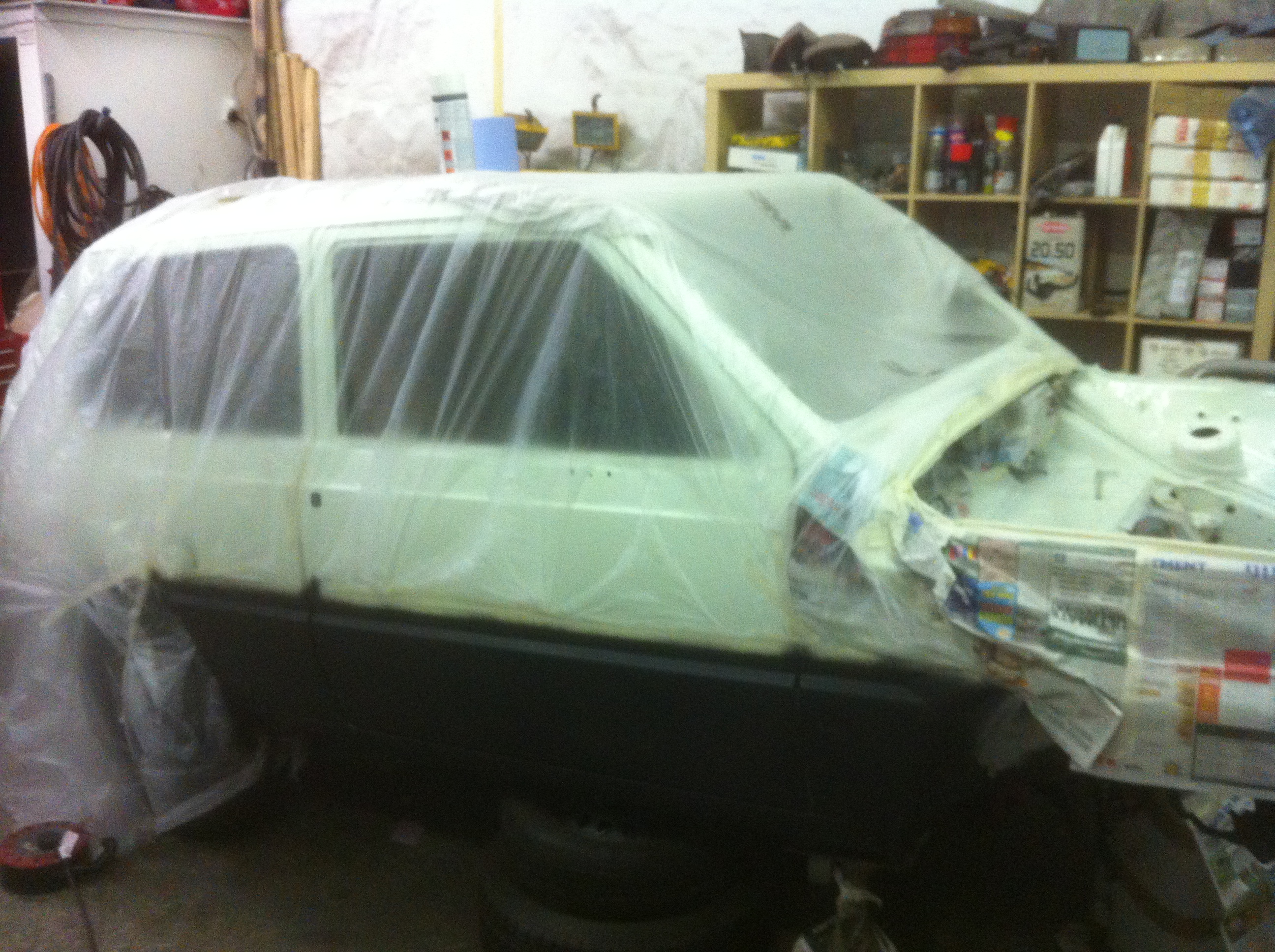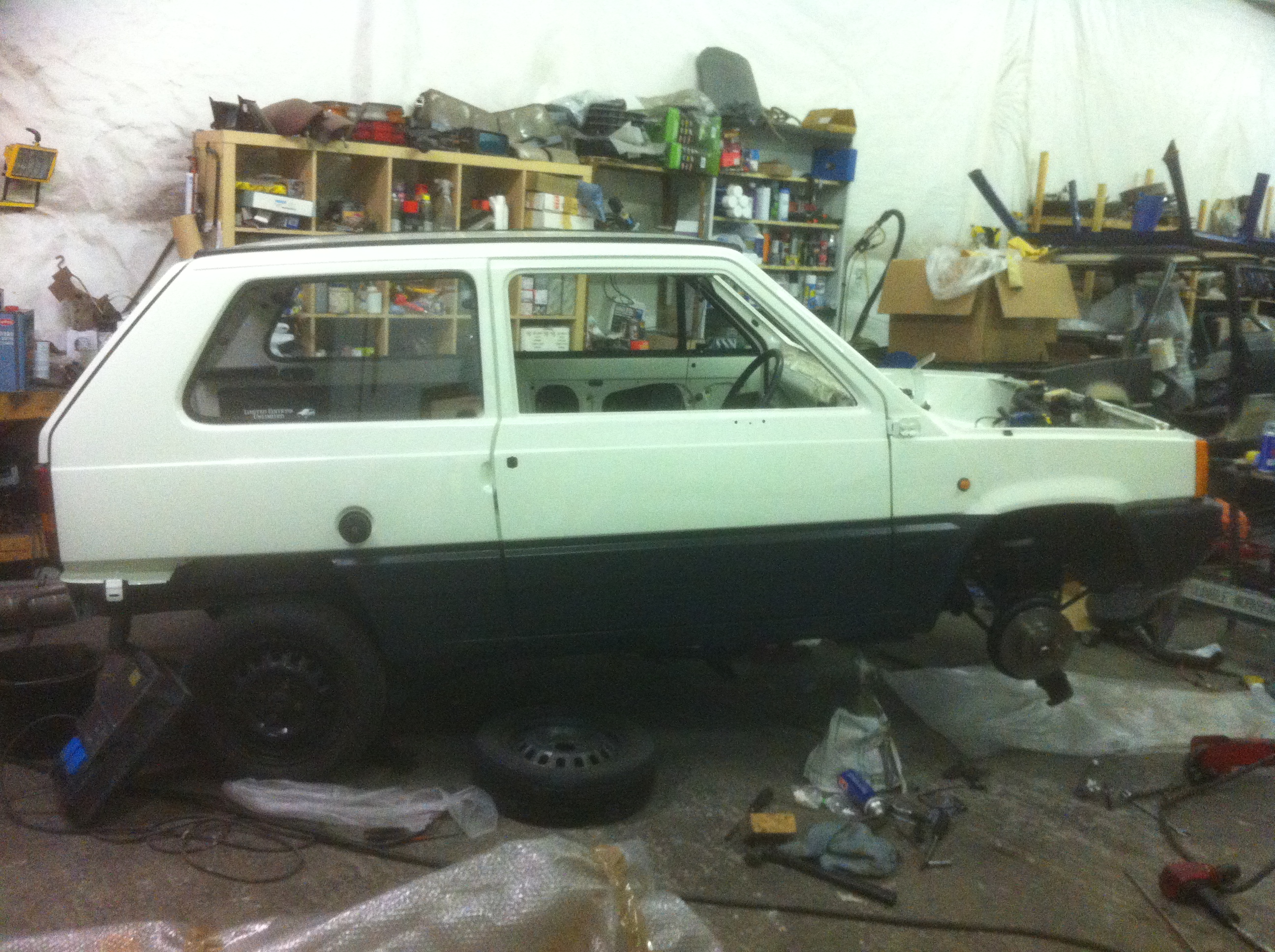 The new front bumper went on with new headlight units and new number plates......
The earlier style wheels from my other MK1 had been refurbed and powder coated so they went on too......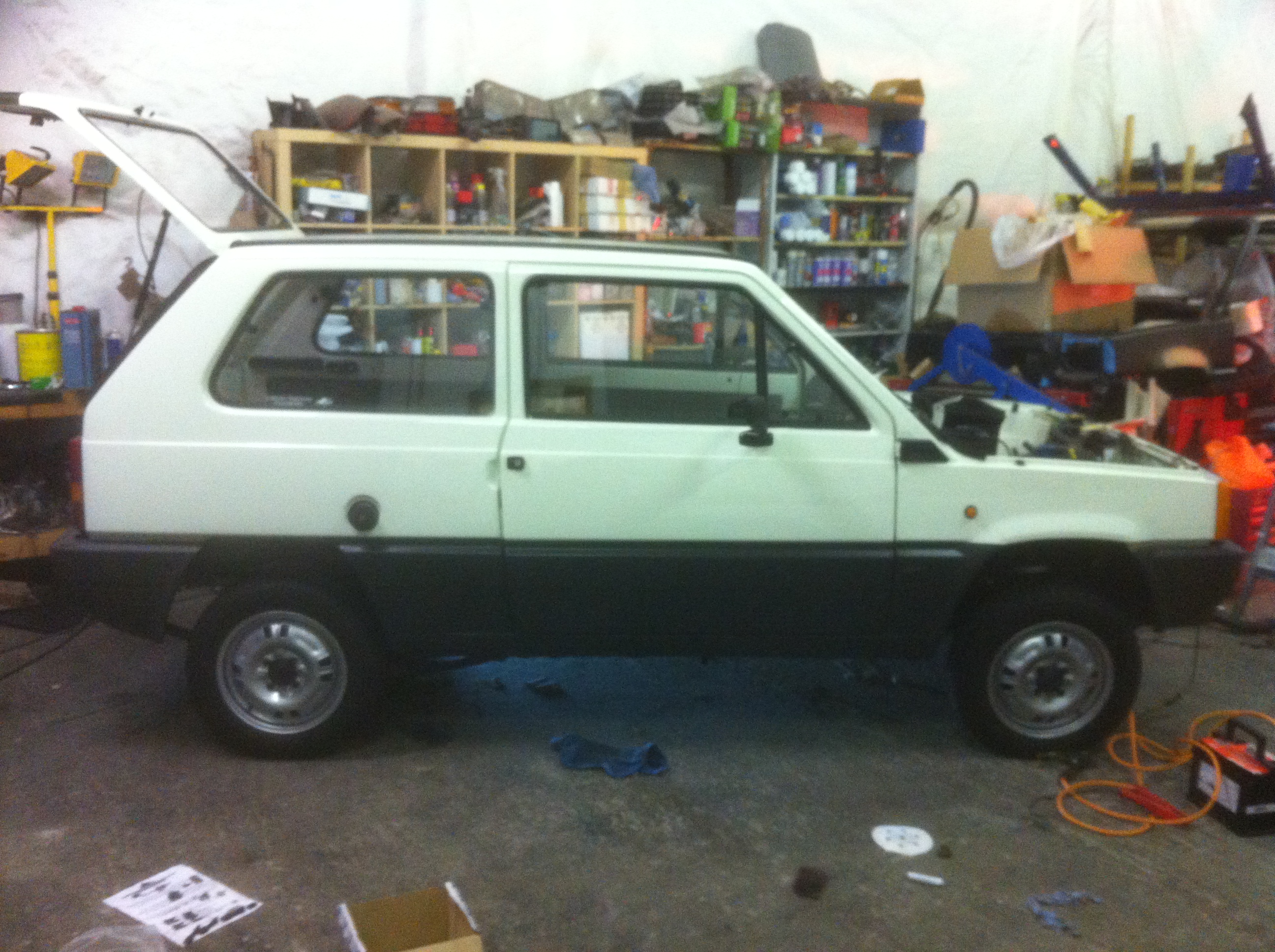 We are now at Wednesday evening, the day before we needed to be setting up the stand at the NEC
The engine was in but wouldn't start, there was no interior, and no windscreen or bonnet fitted. It was 10.30pm and we were tired so we decided to call it a night and have an early start next morning.
I must point out that the 'we' in this rebuild include Stuart and Matt, two freelance mechanics who have recently come on board for a few days a week. To turn this around in three weeks would have been impossible without them, and Pete of course. Not only did they help with this but during that time we also worked on Betty, Panto, Gertie, and a couple of other cars too. :worship: Sorry to any non regulars, that last sentence must have made little sense
.
Thursday morning and it was just Stuart and I. The starting problem turned out to be the engine earth strap, someone hadn't fitted it.
Stu sorted that, topped up the fluids, and tuned the engine while I fitted the dash and interior. We then both fitted the windscreen and bonnet. A quick once round the car park and off to the NEC I go, 3 hours late ( sorry Gavin
).
Finally arrived at 5.00pm, dumped the cars on the stand ( we took two others) and retired to our hotel for dinner with the others. Phew!
It was a great show, and I'm so glad we didn't give up as Casper was well received I think. Here are the pics.......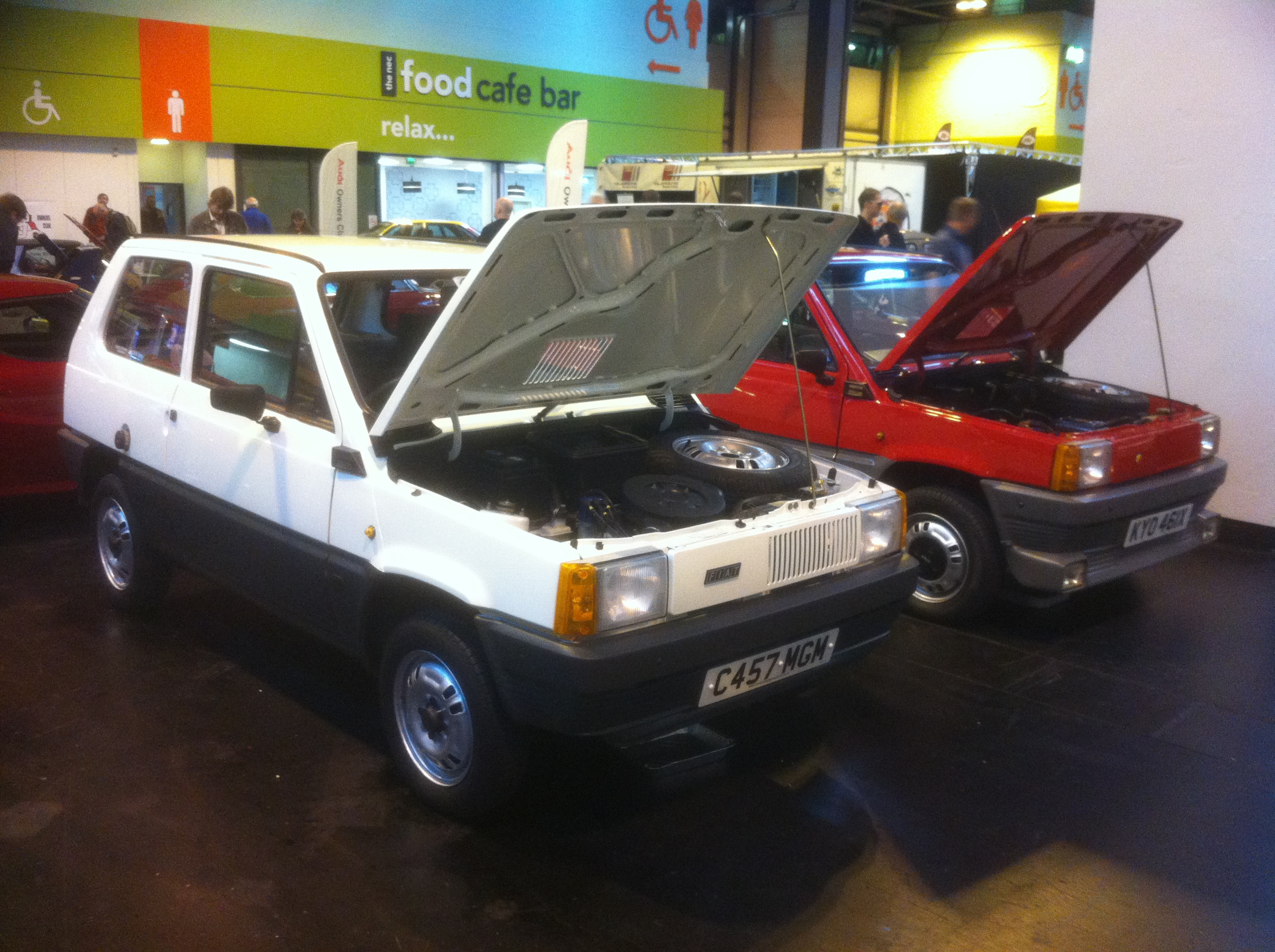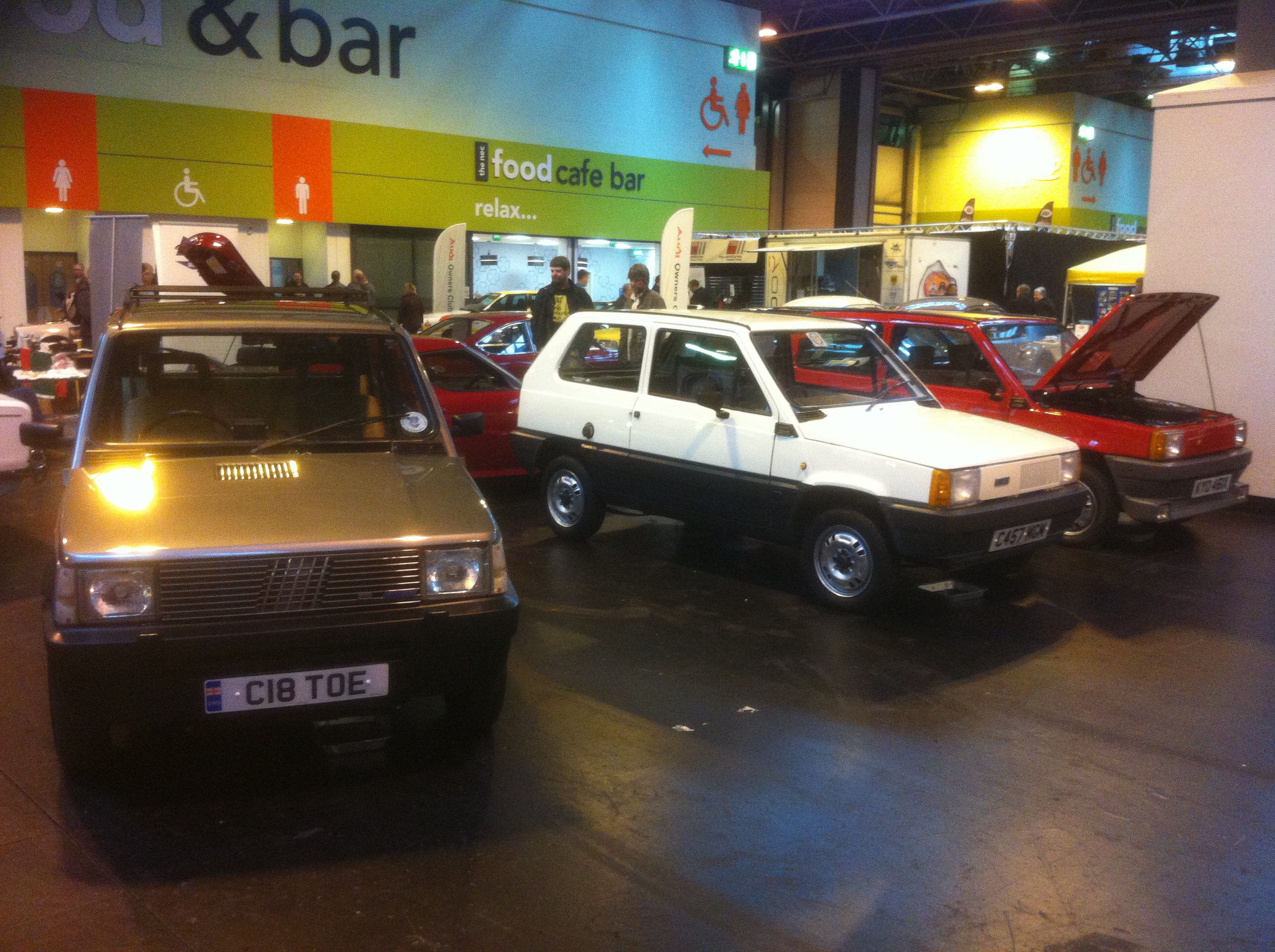 I took some more pics of the interior and engine bay when we arrived back home.....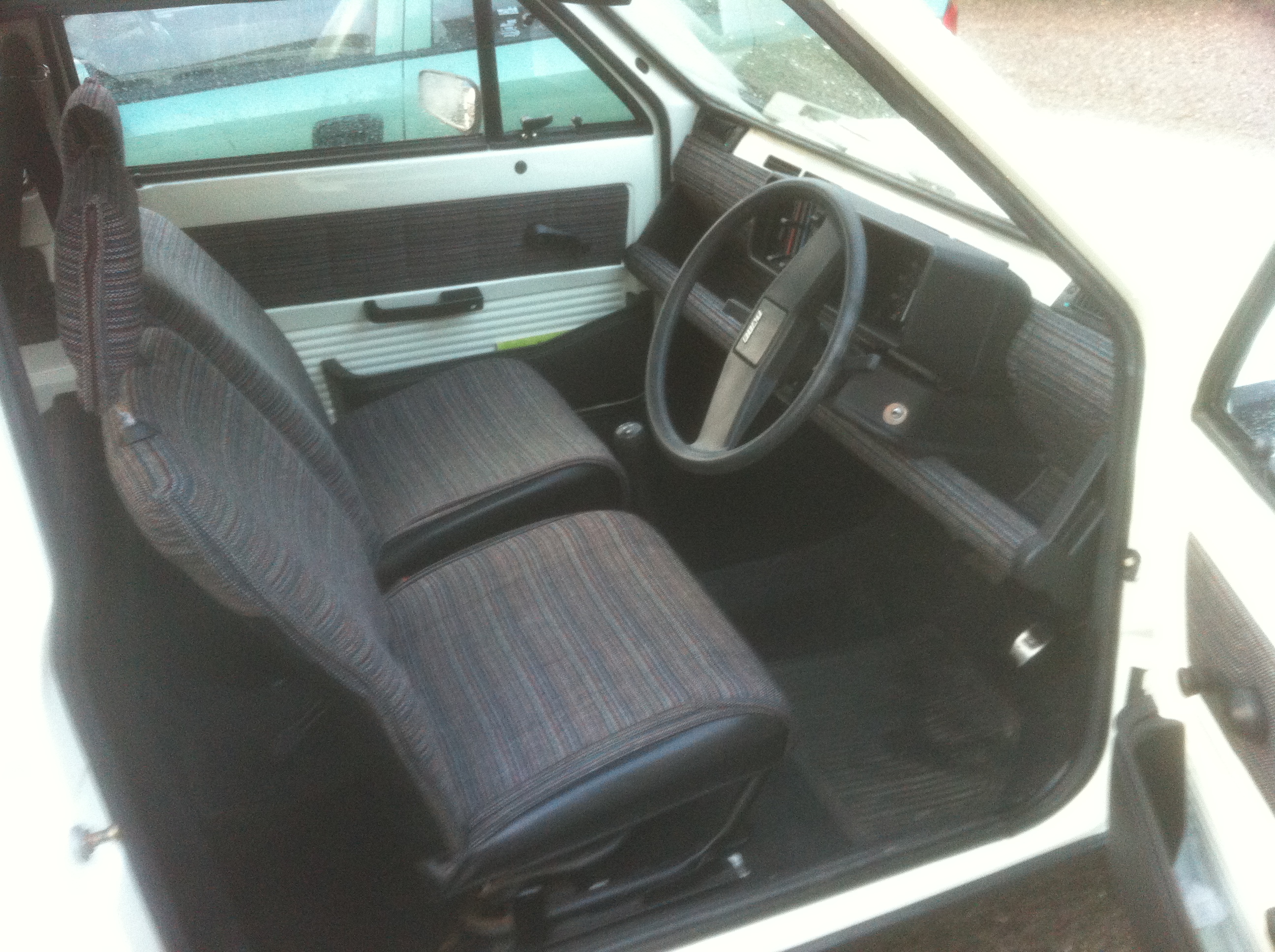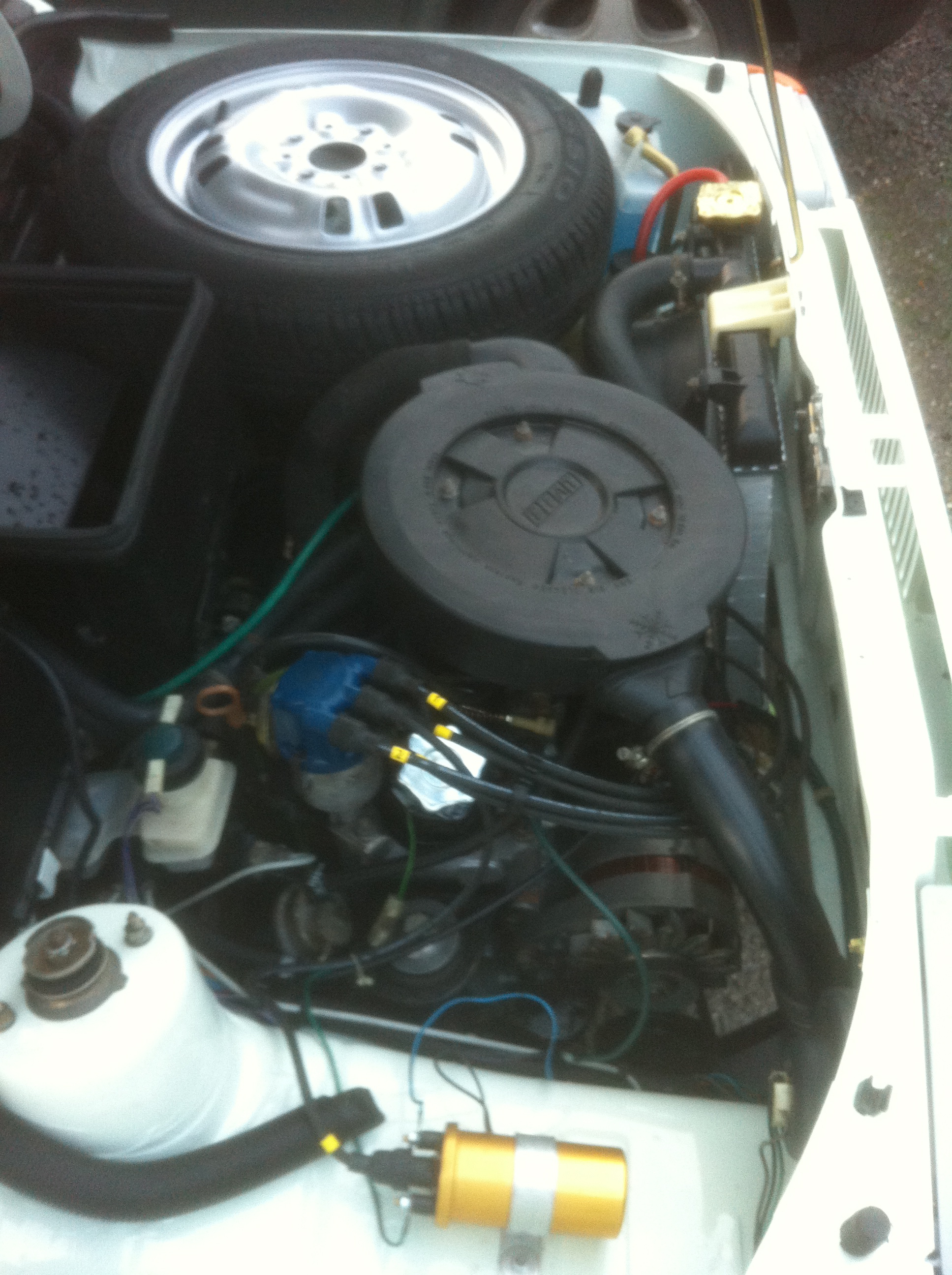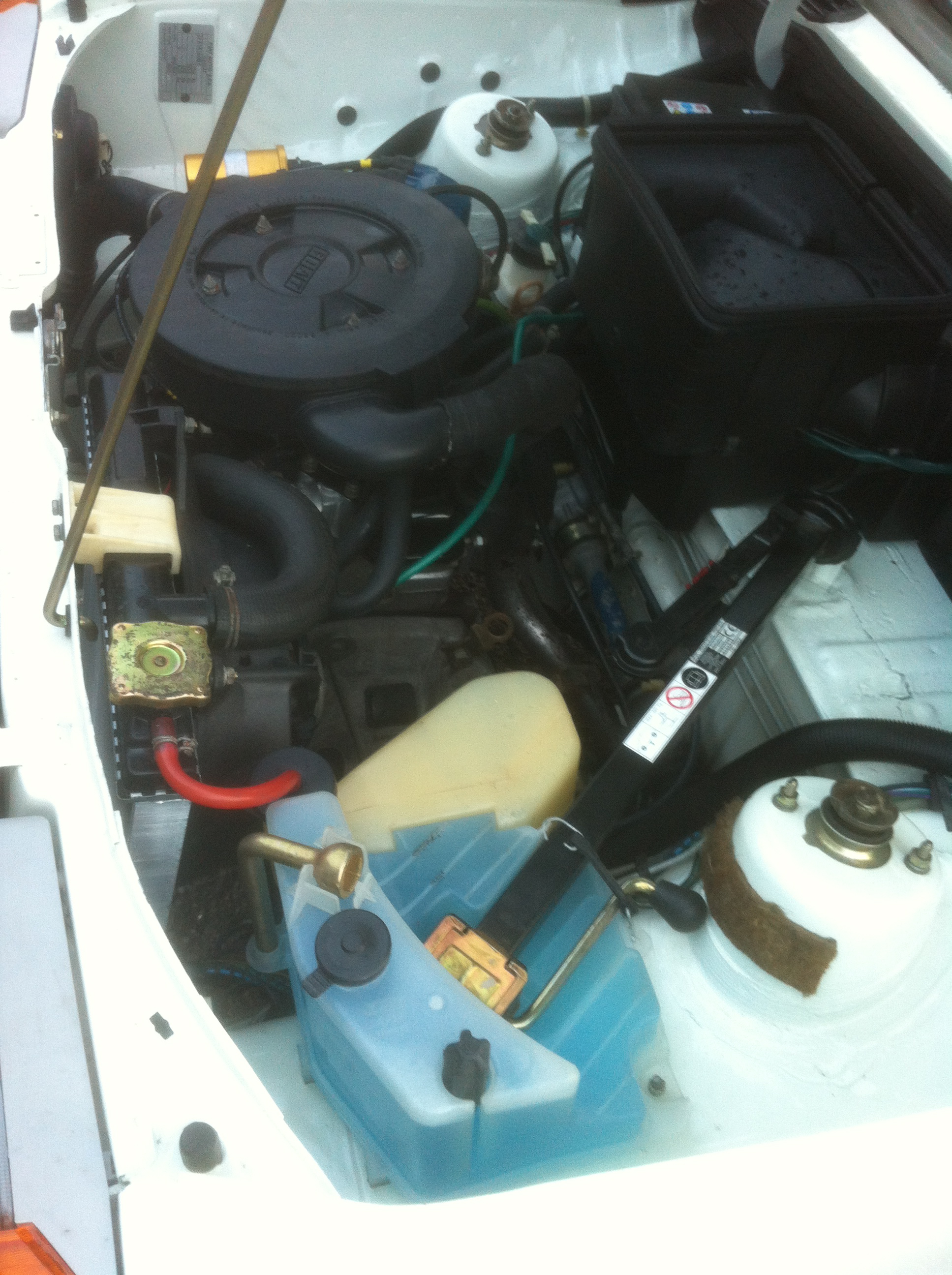 Apart from a sticking throttle and the indicators not flashing on the dash he drove beautifully, like a new car in fact. I did fix the indicators last week, turned out the new headlamp units didn't have indicator bulbs fitted :bang: They didn't have headlamp or sidelight bulbs either but I thought to fit those. Must have been tired
Future plans are to improve him further, rear suspension needs painting, and use him for special occasions so as to keep the mileage low, that won't be easy though as I love driving him.
I've done so many mods on Pandas, Alfa seats, bigger wheels, bigger engines etc etc that I really needed to do this to ease my conscience a little. I wanted to have one Panda that was true to the original concept, it's a brilliant design and deserves to be left alone sometimes.