Introduction
I bought my Cinq as a first car for £350, it had 14 previous owners had been in a crash and had done 75k(ish), but it was all straight, clean and had the Abarth skirts, etc. I originally had gone to look at a black one the guy was selling, but he then decided he didn't want to sell so he said "I have a yellow sporting for sale", I had previously said, "I'll have any colour as long as it's not yellow or pink" -.-
This is what the car looked like when I first bought it-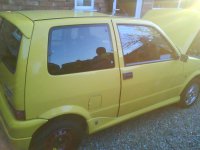 I drove it for a while like this, but the wheels were matt black.
I smashed into a kerb, in the wet so I was driving on a buckled wheel for a while -.-
Then I had a small disagreement with a BMW at the hospital (smashed my old bumper off, along with Abarth front apron, smashed my wing in, damaged my wing mirror and wrecked my radiator and a few cables.)-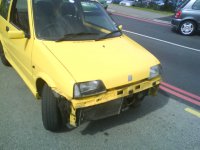 I hastily bought another bumper from the classifieds, thanks allanhelen - (although one of the mountings was broken, but I fixed it with Q-Bond!)
I decided to get the buckled wheel sorted, so I bought a set of second hand Borbet alloys -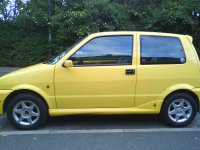 Now it's practically sorted, I have recently done the checkered roof and matt black bonnet, debadged front and debadged rear.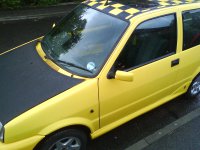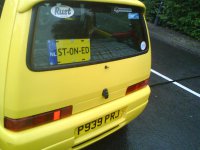 I've never really had trouble with it-
*The central locking and alarm went funny. (Dodgy earth connection)
*2 small collisions.
*Brake fluid leaked in the boot, not the car's fault I suppose.
*Driver's side rear brake cylinder failed, so no brakes. All fixed now though.
*Handbrake didn't work when I bought it, a new cable sorted that right out.
*One headlight is really dim.
*Keeps blowing brake lights.
But I'll never get rid of it, it truly is a BRUTALCINQ!
Sorry if this has been long winded.
:slayer: