Introduction
The tentioner went on the uno the otherday and has killed the engine so we had to get babz a new car. plan was to get her sisters sei sporting next march but because the uno died so suddenly we needed something now and this is what we found...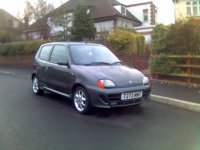 T reg Sei Sporting Abarth in gunmetal grey.
64000 miles, few little dints on the bodywork but is unscratched and in lovely condition on the inside!
have already ordered cup mirrors, smoked indicators and side repeaters and the apex -40mm lowering kit
sorry about the rubbish pic, was taken on babzs phone this morning. ill get some proper ones on the cam this weekend!
so what ya think?