Introduction
I've been here for nearly 2 years and haven't got a members motor thread up so I thought I would pull my finger out and get one up.
So introducing Alonso!
In short it's a Grande Punto Series 2, with a 1.4 8v engine in the Dynamic Sport trim and a Skydome.
Just a little background and car history...
I got him in October 2012 and haven't regretted a thing!! Previously I have had two Corsa B's, the first one was a pitiful 1.2 known as the "high torque" version, that was a lie. It was pretty terrible, didn't even have power steering, that one ended up in a tree. The second corsa was a step up to the 1.4 breeze model. That ones engine blew up catastrophically
After that I wanted a car where I thought nothing could go wrong. I did look at a panda during the scrappage scheme but the dealer in Gloucester was a joke. Bought an i10 and it was so boring! Everything did go wrong but I managed to get rid of it and get the punto
I hadn't even thought about a punto before and asked my friends for their opinion. My mate had just got a cinq and said I should look at the grande punto. Read up on them and it became clear pretty much straight away that this was the car I was going to buy! There was nothing else on offer that came close.
Went to look at an Active Sport s1 locally, while there I also saw the dynamic sport. I fell in love instantly with Alonso when I saw him. I remember it was raining. I turned on the headlights. Looked at it front on and in my head I knew this was my car. I didn't even notice the sunroof. I remember being with a couple of mates when I looked at it and shouting out "oh my god it has a sunroof. Oh My God it has two sunroofs!!!!!"
Long story short here he is...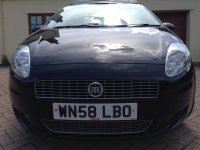 Being quite a small engine I haven't really done any performance mods. I've fitted a k&n panel filter and will eventually get new springs and paint the wheels and brake callipers. Everyone seems to change to the darker headlights but I actually prefer the chrome ones.
Other cosmetic changes...
- painted the fiat badges black and silver. Used the same fiat paint as the car
- chrome bulbs (if you haven't done this then do it!)
- carbon fibre look steering wheel controls
- punto sticker over the rear brake light
- fitted an iPod cable that goes from the blue and me PC to the cup holders hidden behind the dash
- abarth stickers on the wing mirrors
- fiat forum sticker
There are probably a few other rings I've forgotten about.
Few more pics...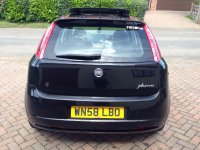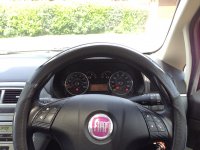 In short I love this car! It's the first car I've ever been truly happy with. I still leave for work every morning and look at the punto and I still get a big smile. Even though it looks pretty standard it always gets compliments. Mechanically it could be a bit better but it's not a terrible car to drive.
Thoughts and comments welcome