Introduction
Roll back the years to 1990 and Chas wasn't into Fiats. He thought they were unreliable rust buckets made of pasta with temperamental electrics (oh how he missed out!) He was a keen follower of car magazines such as Street Machine, Custom Car, Cars and Car Conversion and even Fast Car magazine (long before it became Chav Car
), devouring the articles and stories of people building their own 'Street Rods'. 'Hot Rodding' was still popular, and though he dreamed of owning a big engined Yank muscle car his wages wouldn't stretch that far. Armed with the articles and inspiration from the magazines he decided to build an English equivilent.
It had to have a similar style to that of a late 60's Yank muscle car with the infamous 'Coke bottle' side profile, and that left only two viable options. A Vauxhall FD Victor/ Ventora (rare as fook even back in 1990) or a Mk3 Ford Cortina. Having seen a 3.0 V6 modified Cortina featured in Custom Car, that seemed to be the perfect car to base a project on, especially as with a bit of juggling around many parts/ engines/ gearboxes from bigger Fords could be made to fit quite easily. The idea was it HAD to end up with a big 'V' engine like it's American counterparts, and thanks to the sharing of platforms the Granada V6 could be made to fit using standard parts. A mk3 Cortina it had to be then.
Keeping an eye on the classifieds one turned up locally, a 1974 Cortina 2000E ('E' for 'Executive', it was the top model in the range from 1973 onwards, superceeding the earlier GXL). Price? £275 with about six months MOT. That was a cheap car back in 1990 and the chances of finding an MOT'd mk3 today at that price would be a rare thing indeed!
This is what they looked like new: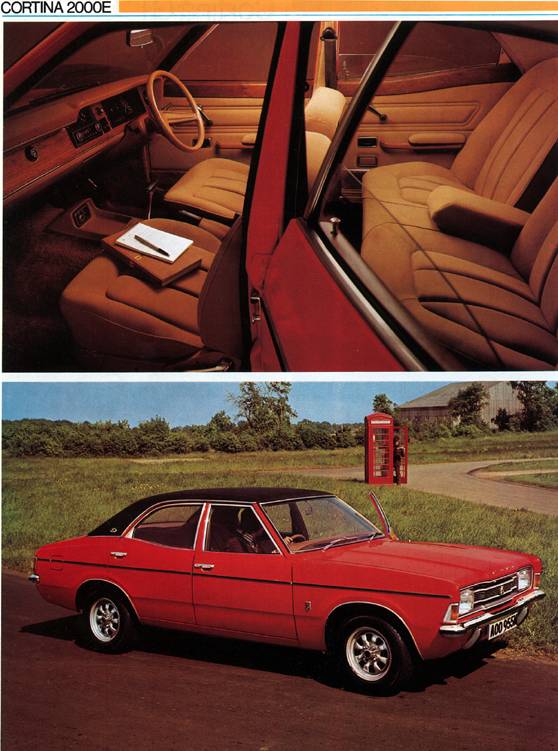 But the one I bought on February 17th 1990 didn't look quite as smart as that. It was white, had a 2 litre Pinto and auto box, bits of rust here and there, wood trim, a full length sliding sunroof, seats falling to bits but it still had all the style of a 1970's tank top. Cool! It was just what I wanted!
Over the next few years (1990 - 93), the car was stripped down, bodywork restored and bits of welding done and then resprayed in Ford Daytona yellow. Back in the late 80's/ early 90's the in colour was white (along with everything colour coded the same - ugh!) and I wanted a colour that was different. It had to be a standard Ford colour suitable for the era (70's) and a colour that wasn't popular at that time in the 90's. Thus I chose Daytona Yellow as it went well with the black vinyl roof and chrome trim. Little did I know that a few years later yellow would come back into fashion
I should've gone with Ford Citrus orange...
A mk5 scrap 2.3 V6 Cortina was bought and stripped of its running gear (mk3, 4 and 5 Cortinas all used the same running gear), which was refurbished and then swapped into my 2000E. This now gave my mk3 2000E the running gear to fit the 2.3 V6. With the 2.3 'Cologne' V6 being from the same family as the 2.8 V6, the bigger 'Cologne' engine would also fit. This was the plan! :devil:
A fire damaged 2.8 mk2 Granda Ghia was bought and stripped for its engine and auto box. The engine was rebuilt by me and I remember spending 3 days alone grinding all the valves in by hand. The whole lot was lovingly painted in Ford blue in keeping with the Ford muscle car tradition.
Gradually the car took shape and finally in late 1993 everything was in place to see if it would run. After much nail biting and worrying, the Cortina's ignition key was turned and after a bit of spluttering she fired up with a growl and settled down to that off-beat engine throb that only a 'V' engine could give. I reckon I was about 90% done on the project and was looking forward to finishing it and getting it on the road.
However, my career as a professional musician took off in 1993 and suddenly I was spending long periods away from home. When I was home I was too knackered to do anything, and before long the Cortina got forgotten about while other pressing matters in life came about.
Fast forward to 1998 and my life was in limbo. My main music career had finished but I was still doing music in another band. In February of 1998 I did some work on the Cortina and started her up. Little did I know how long it would be before I'd get a chance to work on her again.
Then my life changed again. I was spending long periods abroad backpacking, working and travelling. When I did get back to the UK permanently in 2005 I then decided to re-train for a new career and went into full time education. I was the typical skint student and had no inclination to work on the Cortina as there was no way I could afford to put it on the road. I didn't have much time to work on it either as studying took precedence. Again it got left in the council lock up, all on its own and forgotten.
Until now. With my summer break of 2008 approaching I realised that I had to do something with the old girl. Either I sold her, or I got her on the road. I also realised that this would be the last summer break I'd get with this much time to myself. Next year will be my final year and I'll get a shorter break due to longer work placements. The year after that I will be fully qualified and will most probably be working full time. The year after that I am hoping to emigrate, so the Cortina had to be sorted out one way or another this summer. It is a last chance opportunity to finish it off after all these years.
But is it viable? Is it still doable? Does it still have a floor pan? Well, time will tell, which is what this thread is all about...