If your door mirror has been twisted forward and appears to have broken off, then do not despair, it may go back together, with a bit of effort. Have a look through the photos in this guide, to see whether yours is broken or just come apart with no damage to the components.
By far the biggest part of this job is in making a special tool to apply pressure to the spring, whilst manoeuvring the parts back into position. The difficulty rating is more for the tool than the mirror removal, repair and refitting. If you are in the Cardiff area, I can loan you the tool I made.
If replacing the mirror assembly (rather than repairing), then follow steps 1-9, 26-33.
This guide was compiled when repairing the passenger side mirror on a 2012 Lounge TA, with electrically adjustable and heated mirrors and the outside temperature sensor.
I was greeted by this yesterday:
[LIST=1][*]Tilt mirror forward (so it reflects sky, or would if it wasn't hanging off), whilst still electrically connected.
[*]Prise glass up along the bottom edge, to unclip it from the motor mechanism. I used a spatula to spread the force, as suggested by someone on another thread. Take care because it could crack.
[*]Unclip the two heated mirror contacts at the terminals on the glass.
[*]Prise off trim panel off inside of door, with the door open. It's held on by three spring clips.
[*]Remove the four screws (8mm socket) holding the assembly to the door – take care not to drop any behind the door card (like I did
)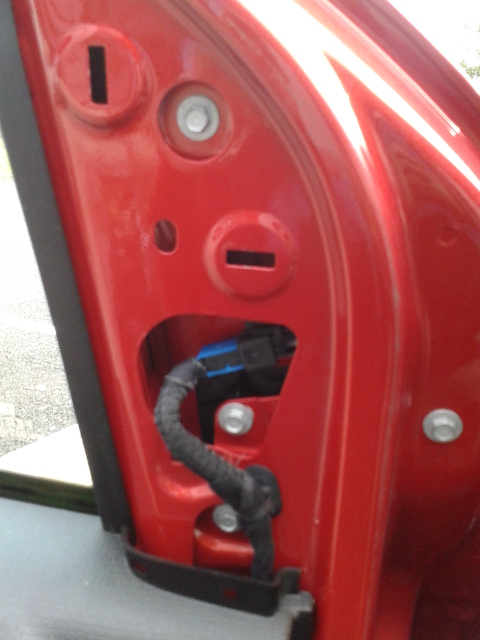 [*]Unclip the electrical connector. The mating connector is clipped into the metalwork, and can be pulled out to make it more accessible. To separate the connector, there is a locking clip which needs to be released by squeezing.
[*]Remove the assembly from door.